Tall windows, wide windows, floor to ceiling windows, oh my…Do you wish you could click your heels and large window covering ideas would appear? Your dream has come true. Together, let's explore which window shades work best in overcoming common issues that plague large windows, such as excessive heat, harsh sunlight and glare. There are so many ways to improve the function of your home and enhance the look with window treatments. Solutions await, including measurements to make a more informed choice. Learn what styles are available for your largest windows. 
*Please note: Sizing can vary depending on window specifics, features & fabrics 
Texas Forecast: Sunshine & Heat
Direct sunlight can be difficult. At times, it may feel like you're in an oven. With a wall of windows, it's worse. There is just no relief from the sunlight and heat. First, identify the issues you have with your windows. Next, solve them with our large window covering ideas. The right products will help you combat the Houston heat and enjoy a comfortable atmosphere.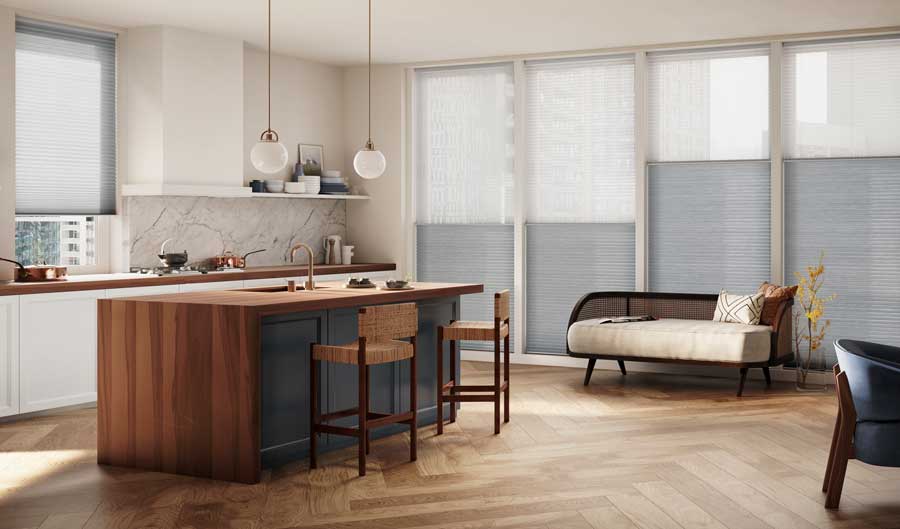 Honeycomb shades are a versatile option for covering floor to ceiling windows in your home. Their cellular shade design reduces heat transfer, while allowing light to come through. Honeycombs offer a wide range of features that address the most complicated window situations. They are available for windows and doors–in horizontal and vertical options. 
Horizontal Maximum: Windows up to 14 feet wide, 12 feet tall.
Vertical Maximum: Windows up to 28 feet wide, 10 feet tall.
Feeling On Display
After all, when your privacy suffers, you may find yourself asking, "Are those huge windows really worth it?" How can you enjoy floor to ceiling windows while worrying about your family's privacy? Let's investigate large window covering ideas that offer security without compromising your view. We'll begin with sheer shades that help by blocking the view in, while preserving your view out. You can have it all.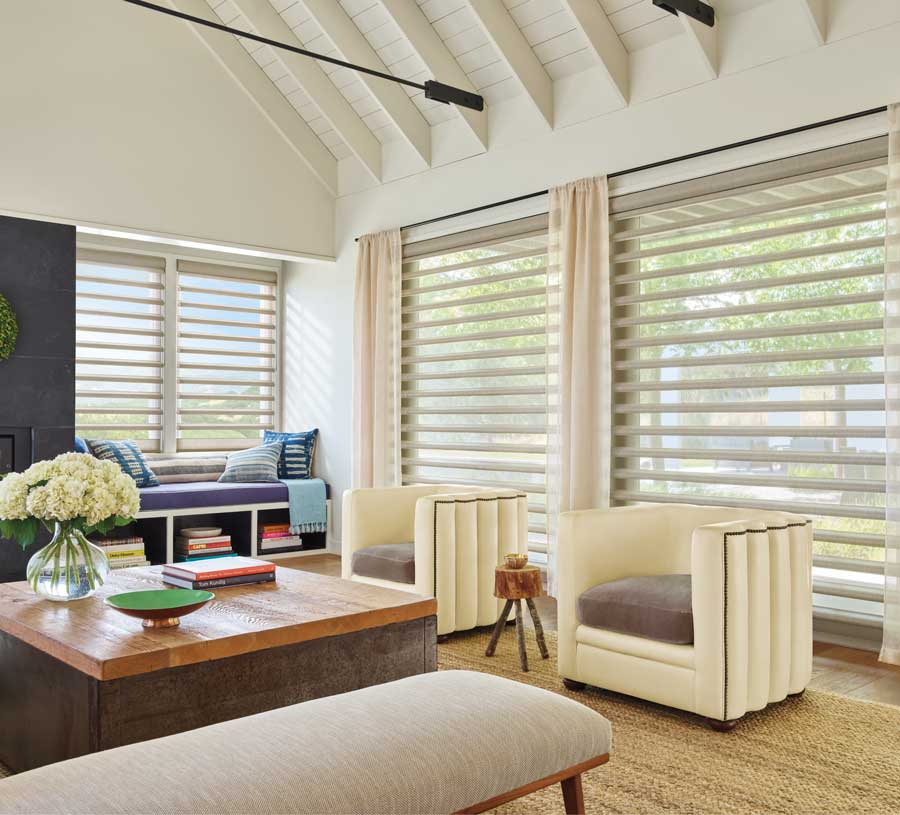 As far as large window covering ideas go, Pirouette Shades do it all. With their dual shade feature, they can show off the view, completely close off the view, or roll up and out of the way. The options are endless with this shade that's equipped with vanes that fold in place to reveal your incredible landscape. Also, the sheer fabric backing helps filter the light while protecting the inside of your home. In addition, you can close the vanes in place for light control–even room darkening solutions. Finally, the entire shade rolls up into the headrail and out of the way. 
Horizontal Maximum: Windows up to 12 feet wide, 12 feet tall.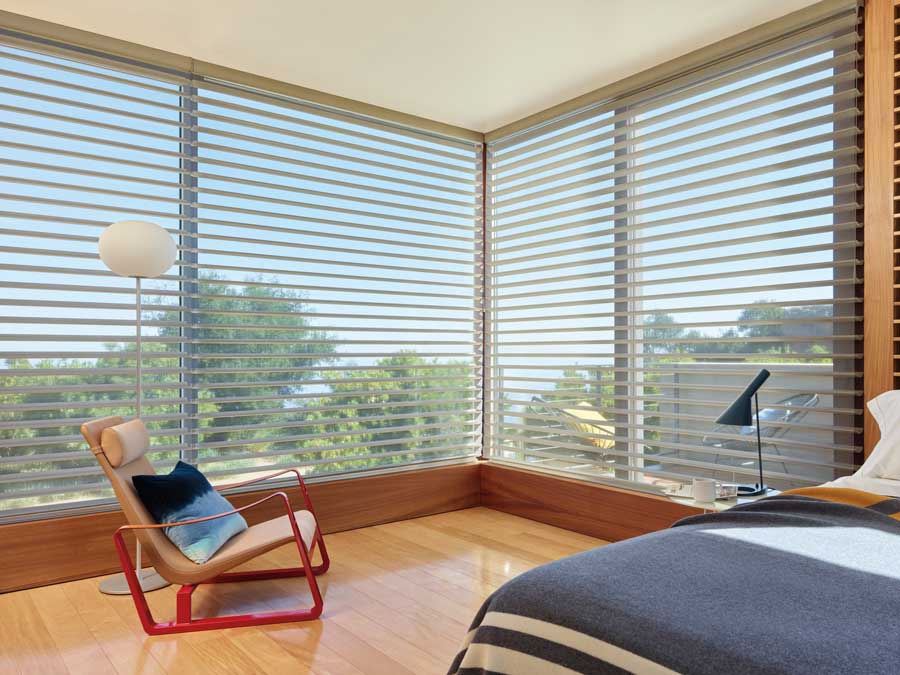 Furthermore, similar to our Pirouette collection, we also offer Silhouette shades. The difference is in the way they function. The Silhouette vanes don't fold, but tilt for a view-through experience. The vanes float between sheer fabrics, allowing for soft light to illuminate your space while keeping it "daytime" private. For nighttime privacy, the vanes will have to tilt closed. We recommend adding a dual shade for greater range of control + room darkening. 
Horizontal Maximum: Windows up to 12 feet wide, 11+ feet tall
In additiion, try Luminette Privacy Sheers for your vertical operation needs. Think of them as silhouette shades with vertical operation capability. Luminette privacy sheers are a perfect fit for sliders and large windows alike. The sheers rotate for a view-through perspective or close off for light control. When closed, the vanes provide privacy and room darkening. 
Vertical Maximum: Windows and doors, up to 16 feet wide, 10 feet tall
Incredible Style
It's important to note, the tallest windows in your home contribute immensely to the overall style of your space. You can add visual interest with roman shades that complement your color palette and offer a waterfall of luxury fabrics for texture and dimension. We have two collections that provide large window covering ideas for your home.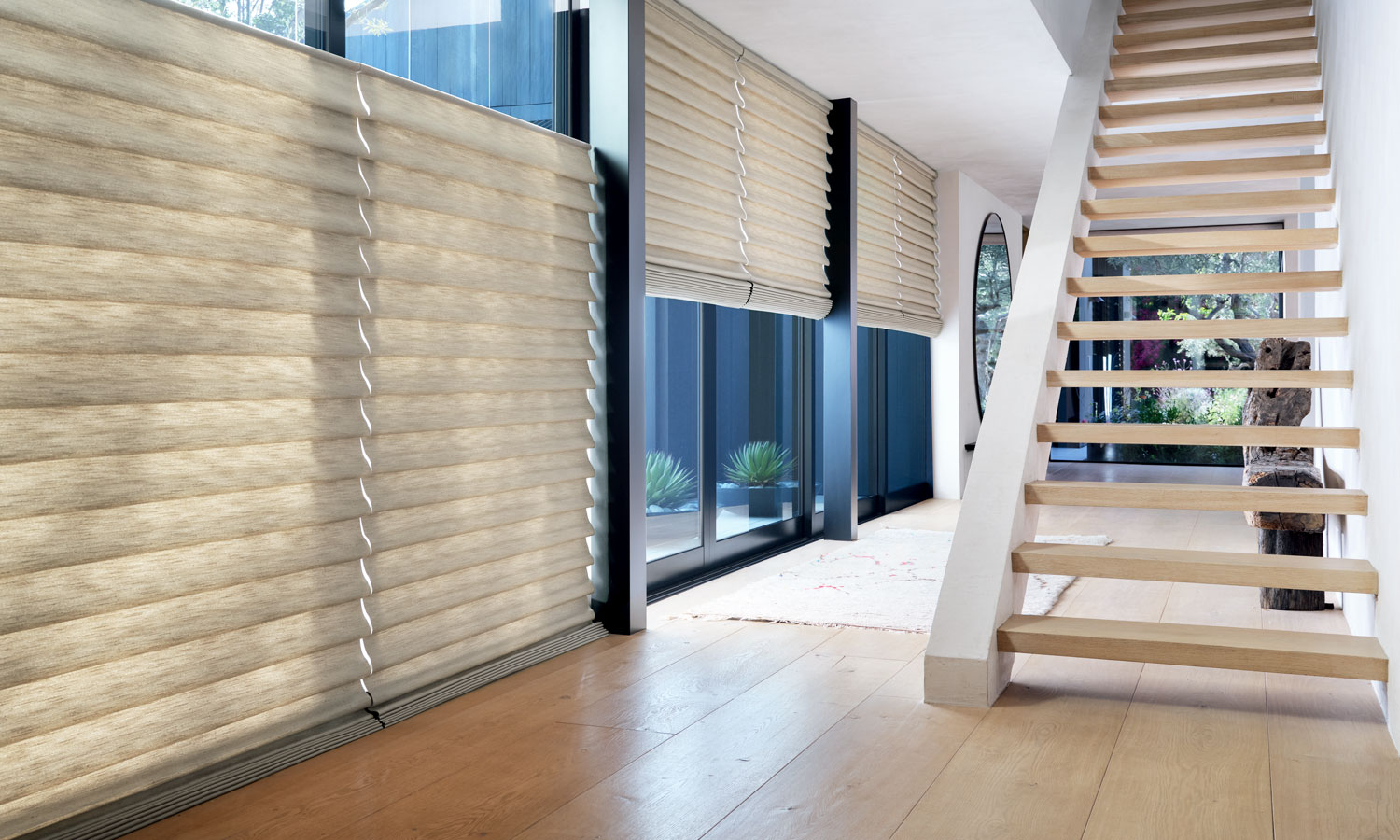 First, Vignette Modern Roman Shades are an incredible way to bring style, light control and privacy to your wall of windows. And, by adding features such as top down bottom up and smart shades, you can direct the light, protect furnishings, enjoy landscape views and privacy at the same time!
Horizontal Maximum: Windows up to 11+ feet wide, 12 feet tall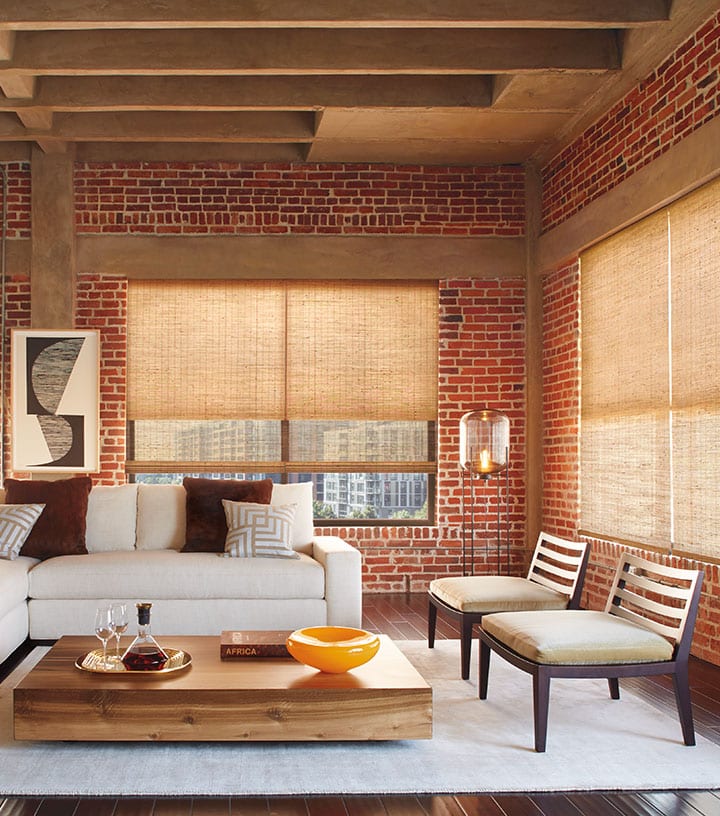 Next, Provenance Woven Woods. The finishing touch in any home is always adding texture. So, allow this collection of woven woods to naturally filter the light, while promising privacy. Color options only add to this statement-making look, while custom features such as top down and dual shade allow you to make it your own. 
Horizontal Maximum: Windows up to 12 feet wide, 16 feet tall
Vertical Maximum: Windows and doors, up to 9 feet wide, 9+ feet tall
Sleek Profile
As you discover the many large window covering ideas you'll notice two distinct themes; luxurious fabric coverings and sleek, modern styles. The choice is yours, both are exquisite. A low profile shade can be an inviting choice if you prefer simple and close to the window. 
Allow function to dictate your selection. When you need protection from the elements, as many homeowners with large windows do, try Solar Shades. They reduce the light and glare and include UV protection. Improve your experience by adding smart shades and dual shades, both features will add to your comfort by providing light control and convenient adjustments. 
Horizontal Maximum: Windows up to 16 feet wide, 12 feet tall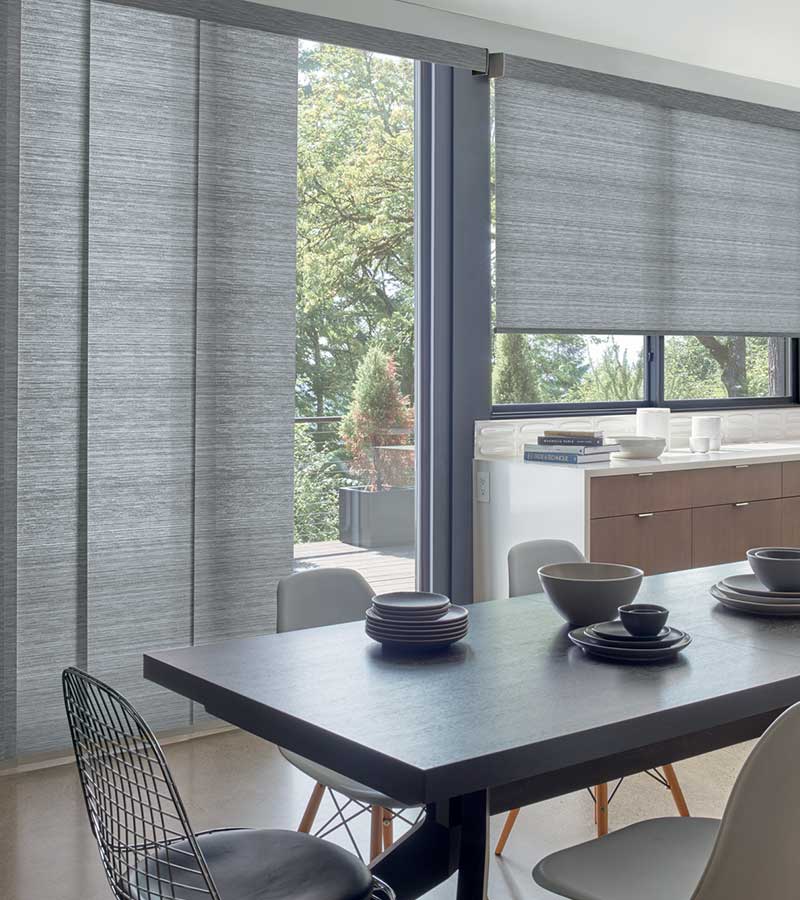 Not to be forgotten are our Skyline Gliding Window Panels. Another vertical option perfect for doors and windows. Clients love to coordinate fabrics with roller shades for a seamless look throughout. 
Vertical Maximum: Windows and doors, up to 32 feet wide, 14 feet tall
Discover Large Window Covering Ideas
Completing your home just got much easier with these large window covering ideas. We are full of inspiration and ready to get started on your home. Create the beautiful atmosphere you've been dreaming about, by solving problems that come hand-in-hand with large windows. Fall in love with your home again by addressing your concerns. Get in touch with our team. Visit the showroom or schedule a FREE in-home consultation.