Let's talk dining spaces. They're important–whether you have an open floor plan, or an intentional room. Your family enjoys meals, memories and conversation. But, without the right dining room window treatments, your time could be uncomfortable and cut short. Do you need an ideal balance of style and function in this all-important space? We're bringing you scenarios that you may relate to–and answers you've been searching for…
Does this look familiar?
We love offering before and after photos to identify light control issues. No one wants to be seated in the "hot spot" of this before photo. The view should be lovely, and yet, the glare makes it hard to enjoy. In addition to the atmosphere, the UV rays, over time, will ruin the look with faded furnishings and decor.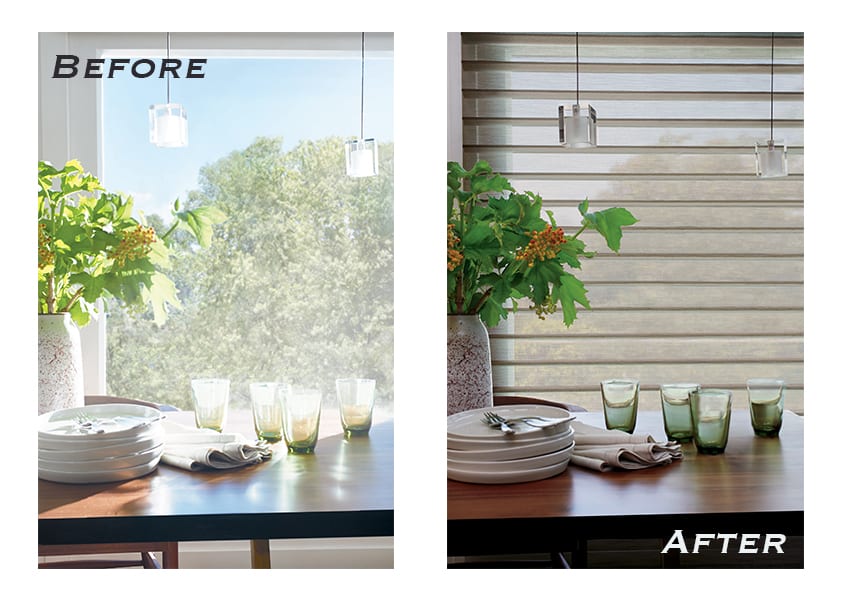 By adding these sheer shades, you enhance the style with designer fabrics. The light is easily controlled–diffused for a calming glow. The view is once again a dynamic backdrop, and the atmosphere is simply enjoyable. Not only that, but your interiors are protected from the UV rays.
How Do I Keep the Character?
One common thought in the dining room is that you don't want to get rid of details that  customize the space. And, you shouldn't have to. Window characteristics, like shape and a beautiful view, deserve to be seen. If your windows face North, you may not have a problem leaving this look wide open. But, without window treatments, the space may end up feeling just a little too "bare." This is when it's a great chance to add side drapery panels.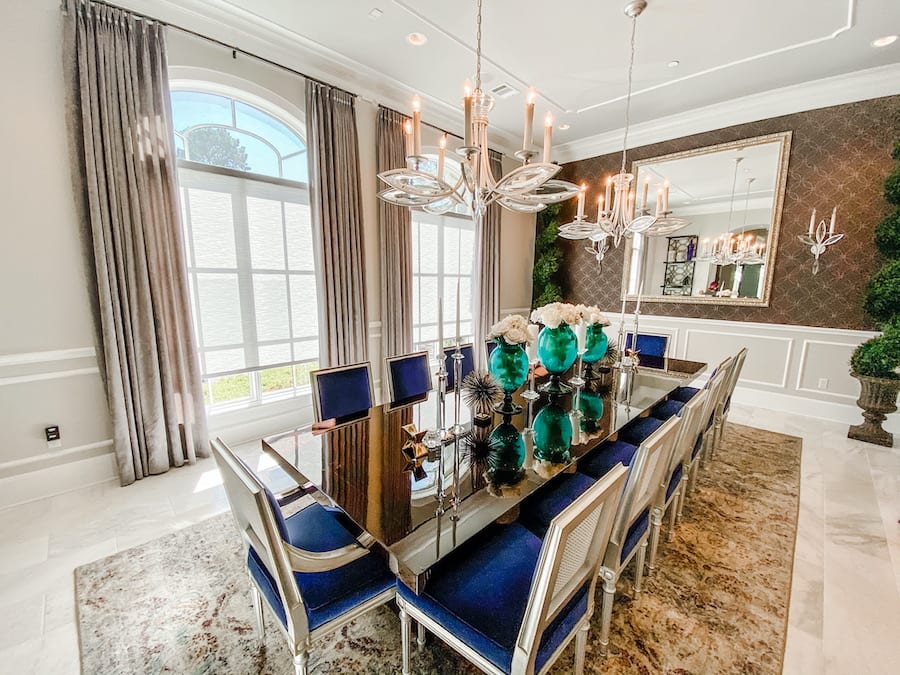 Fabrics soften the space and frame the window without covering up your favorite details. Another option is to layer window coverings for a variety of circumstances and control. You'll keep the character while adding dynamic solutions and tremendous style.
What About Large Windows?
Your home is unique, and you deserve to personalize the space with style and solutions. This comes down to choosing dining room window treatments that will customize the look and atmosphere. Large windows and floor to ceiling windows are a beautiful way to showcase your home. But, the reality can be filled with frustration.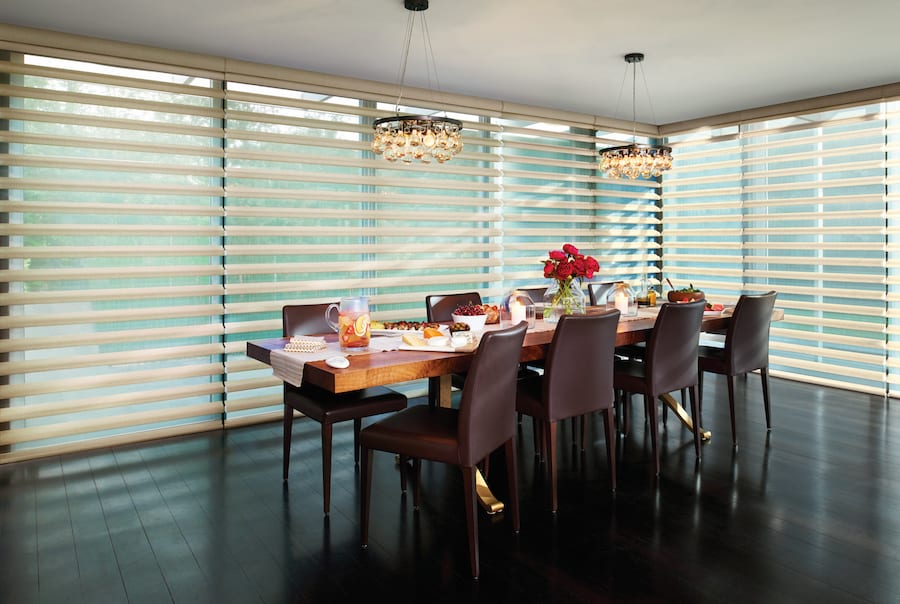 For the largest windows, you should consider window coverings that offer a range of light control and privacy. These Pirouette shades diffuse entering light, leaving you with a glow–not a glare. The vanes close in place to block intense rays and offer privacy. Whether folded open, or closed in place, the fabrics will coordinate with the beauty of your home.
Coordinate the Style with Dining Room Window Treatments
Once you figure out the solutions and benefits that will work for you, the fun really begins! Dining room window treatments play an important role in styling the space. But, that's not all! You can truly design a coordinated room with a number of design elements. And, our team at Creative Blinds can help!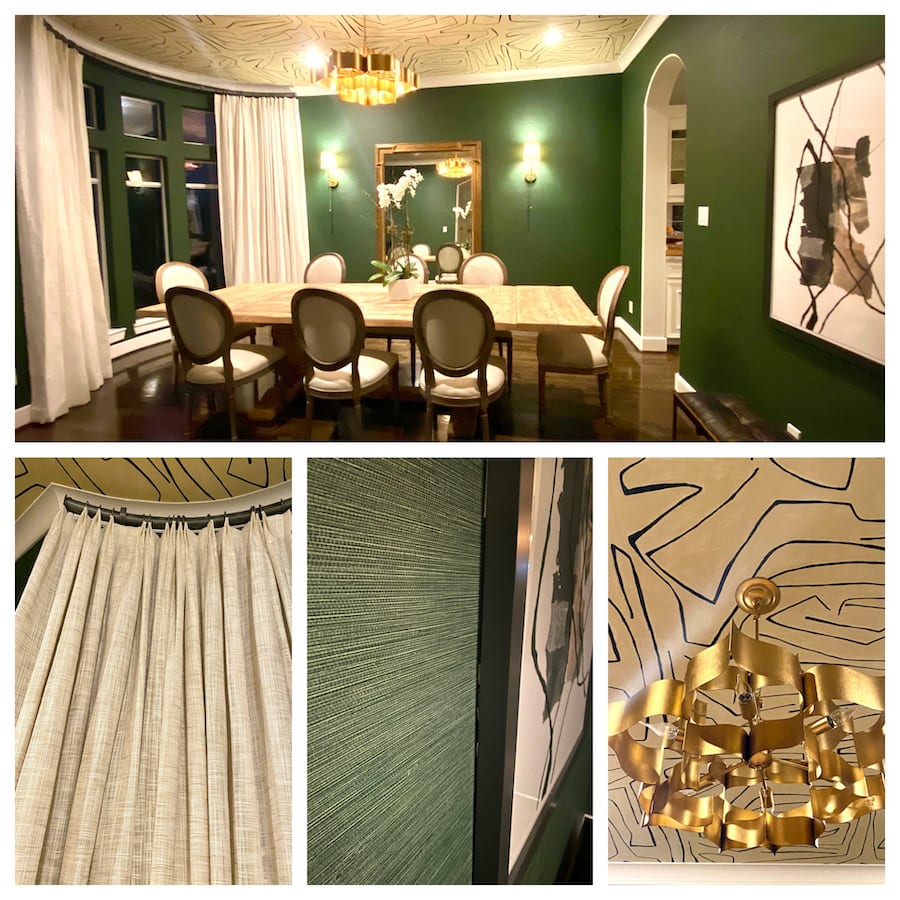 We work with you–across the space–to help create a finished design you'll adore. We offer wallpaper, which is a fabulous choice for your dining space. Just like fabrics, wallpaper brings style and personality with patterns, colors and textures. If you'd like your dining room to be all it can be, get in touch! We're happy to offer FREE design consultations.