The largest windows are often the most beautiful. They offer amazing natural light with a gorgeous view. But, if you're living with bare windows, you might also consider them frustrating and inconvenient. Are you wondering how to cover floor to ceiling windows without sacrificing what you love? Take a look at what's possible…
Beautiful or Frustrating: Natural Light
Of course you want to enjoy the sunshine. But, flooding rays can exhaust your mood and fade your furnishings. The good news? You can have the best of both worlds.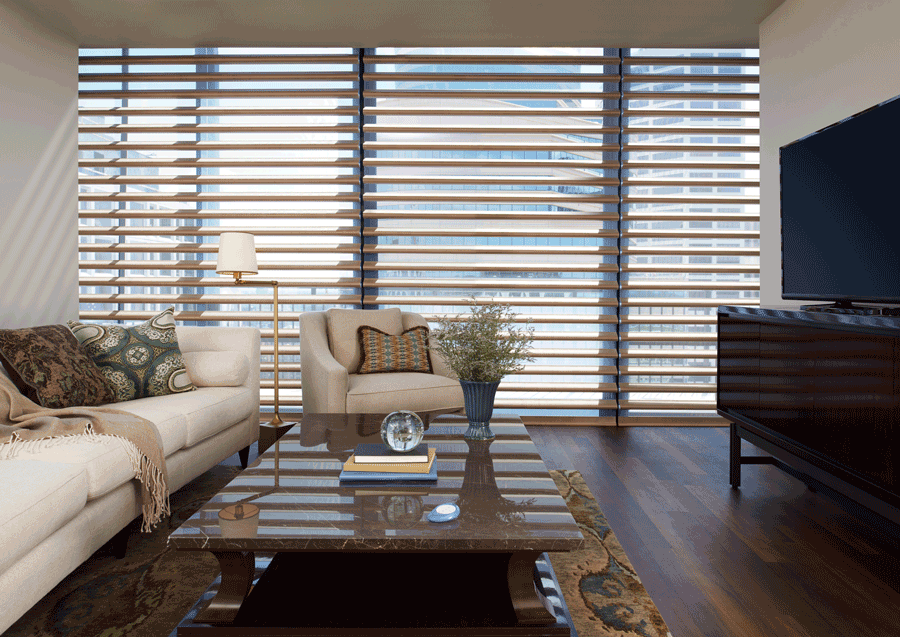 One example of versatile shades is our Pirouette shades collection. They work to allow you a range of settings. You can adjust the vanes open, revealing sheer view through, with filtered light entering in the amount you choose. With the vanes closed completely, you can experience dramatic light control–even room darkening if you desire. No more frustration–only customizable natural light.
Energizing or Tiring: Rays of Sunlight
In the Houston area, we experience intense sunshine and blasting heat. While sunlight is energizing and mood-enhancing, that only lasts for a short time. After that, the direct light and heat begin to exhaust you, zapping you of energy and killing your productivity.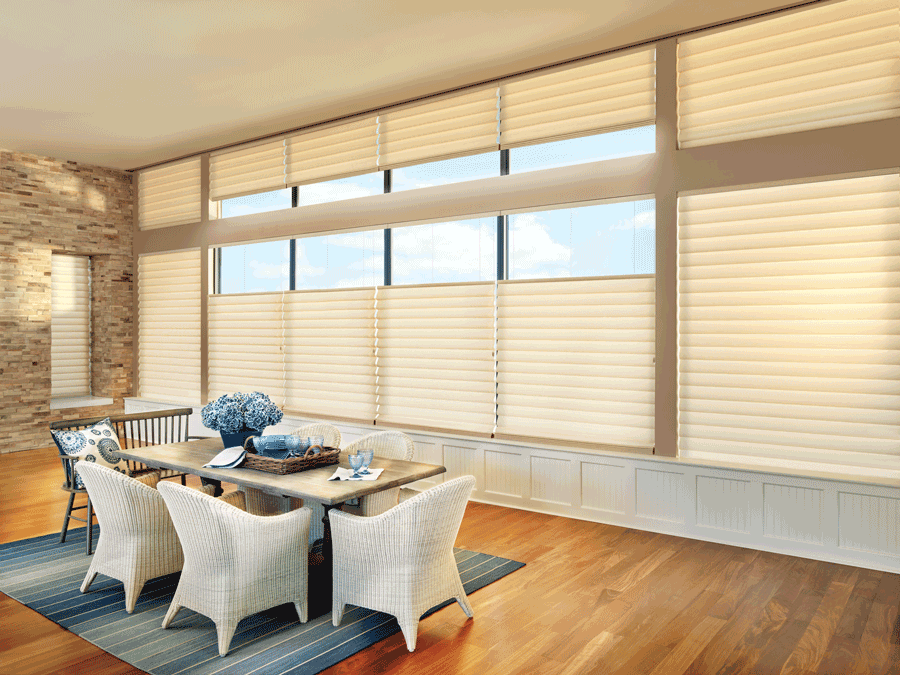 Top down shades allow you to bring in natural light while protecting the interior–and your lifestyle. Bringing sunlight in across the ceiling is what we call daylighting. A healthy amount of light enters. You enjoy it, and you reap benefits of it–without being overwhelmed. That includes the heat. Energy efficient shades keep those large windows from acting as magnifiers of those rays of sunshine.
Landscape or Nosy Neighbors: View Control
You fell in love with the view, didn't you? And why not–landscape views, especially through floor to ceiling windows–are breath-taking. They make your home feel open, airy and peaceful. Until the neighbors next door know what you're having for dinner each night.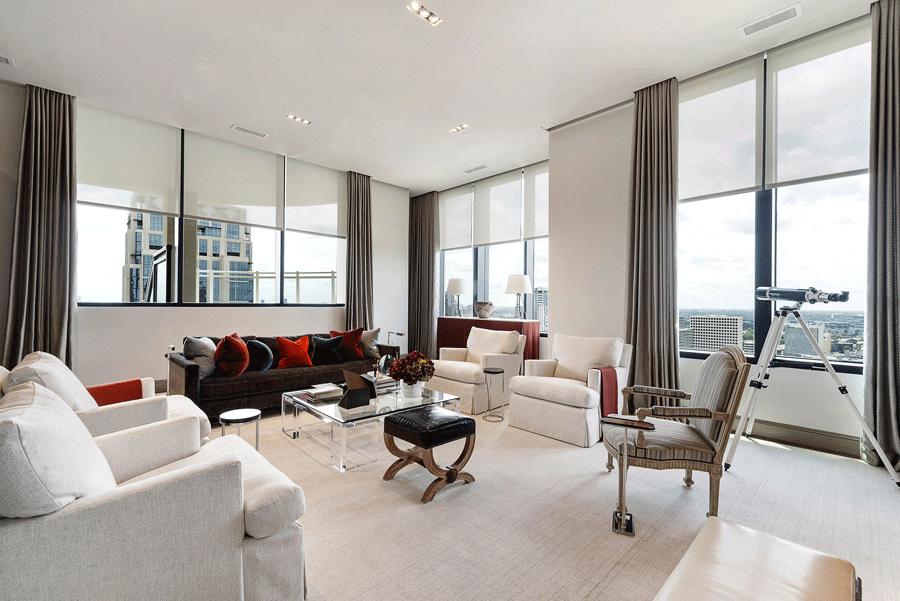 Do you have times when you just want to keep to yourself? With floor to ceiling windows, you can make adjustments without getting up from the dinner table. You can sit on the couch and ask Alexa to close the blinds. You'll have your privacy when you need it, enjoying your view when you choose. You can be the talk of the neighborhood because of your cool motorized shades–not because of your late night reality TV choices.
And, What About Style?
It's true. Nothing can quite rival the look of floor to ceiling windows. They're gorgeous. But…wait. Designer fabrics, contemporary materials. The styling that's possible with today's window treatments will not only maintain the look of your home, but they'll enhance the style and add to the layers of style.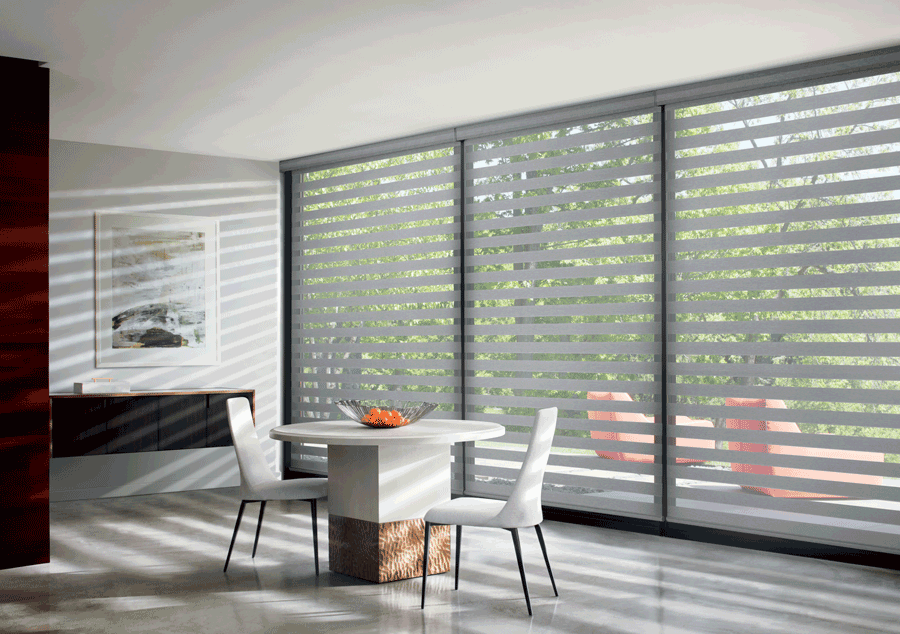 Have you seen the banded shades collection? Rolling fabrics rotate–transforming the backdrop of your home from alternating sheers and solids in unique patterns, to solid, closed-up privacy. These layered shades are just one type–of many–different kinds of window shades, blinds and shutters that will help you create the style you love in your home.
Cover Floor to Ceiling Windows with Style & Solutions.
We've spent years helping clients find the perfect solutions for the largest windows in their homes. Now, it's your turn! You deserve to have it all. Our team at Creative Blinds will  be happy to guide your to the style, features and solutions you need. Contact us today for your free, in-home design appointment.