What's going on in the world of window treatments? A lot, actually. In the past couple of years, the window covering innovations have been moving fast.  Not only are they happening fast, they're changing lives! Our job is to keep you informed of these exciting features, styles and developments…
#1 Motorized Everything.
Convenience is the name of the game is this day and age. Why? Because it can be. Automated shades and blinds can be adjusted by remote control, with your phone, and even your voice! Now, you can add motorized shutters to the list of products that adjust easily with a command to Alexa. Find out more here.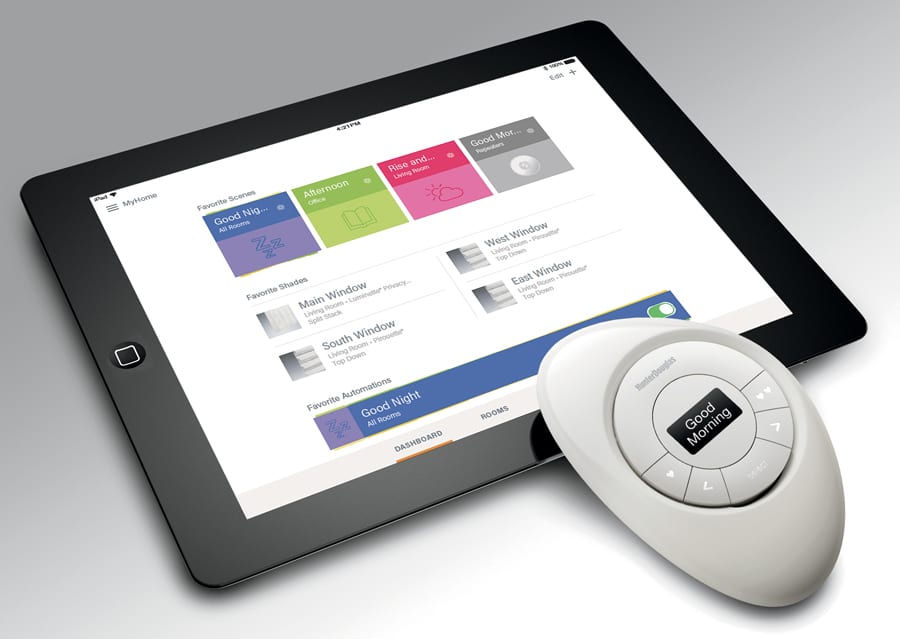 #2 Blackout Shades for Sweet Dreams.
We're talking the room darkening you've been searching for to block that intense Houston sunshine. Hunter Douglas brought us LightLock, which allows shades to fit into channels inside the frame of the window, sealing off the light. Get a good night's sleep even during the day. Discover solutions here.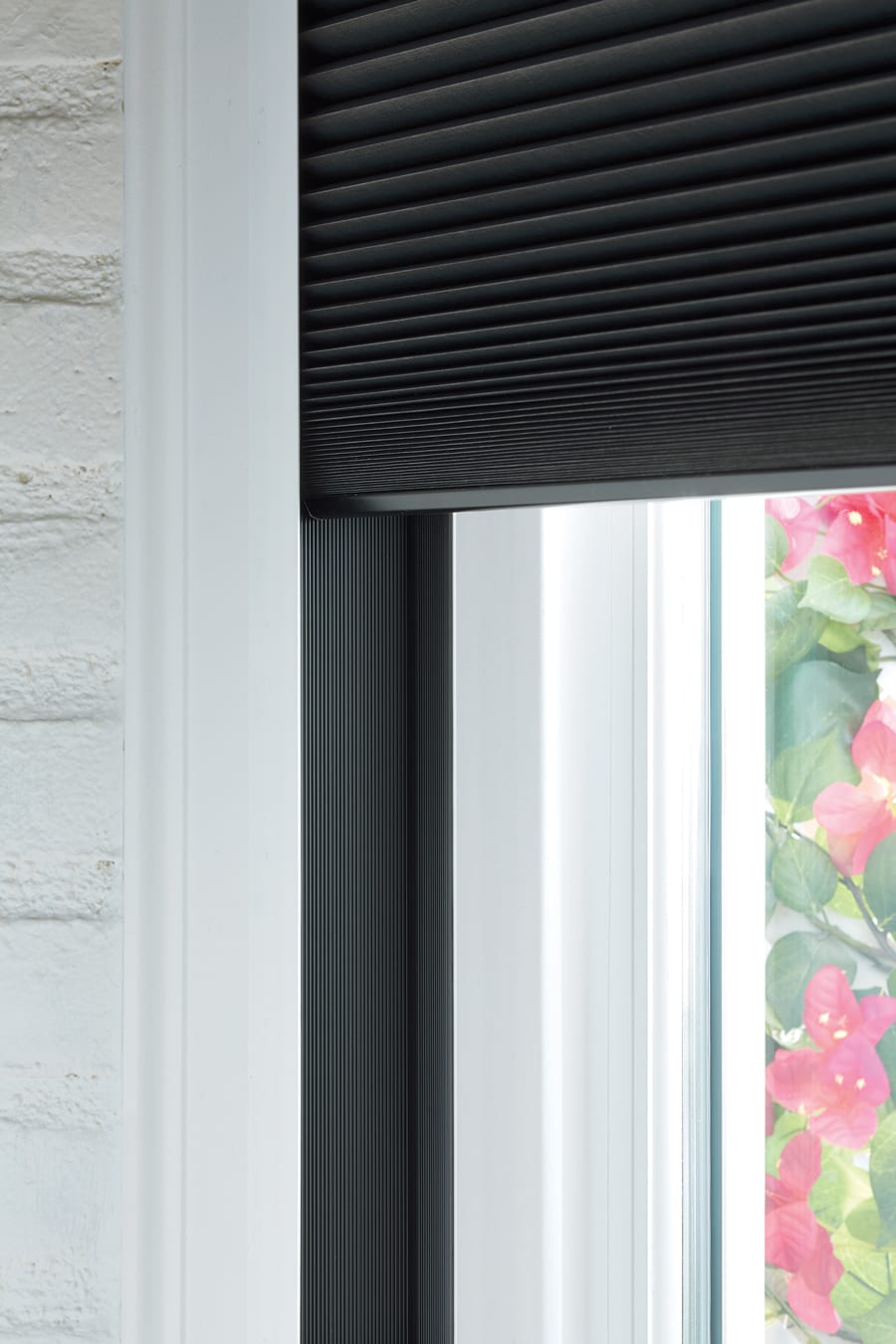 #3 Customization: The Design Studio
The Hunter Douglas Design Studio is taking style to the next level with the latest window covering innovations. Roman shades have always been the standard for customization. But, now they've added drapery panels, side panels and roller shades to the Design Studio collection. Motorized drapery panels can feature a decorative rod. And, by collaborating with textile artist Rebecca Atwood, your choice of fabrics just got even better!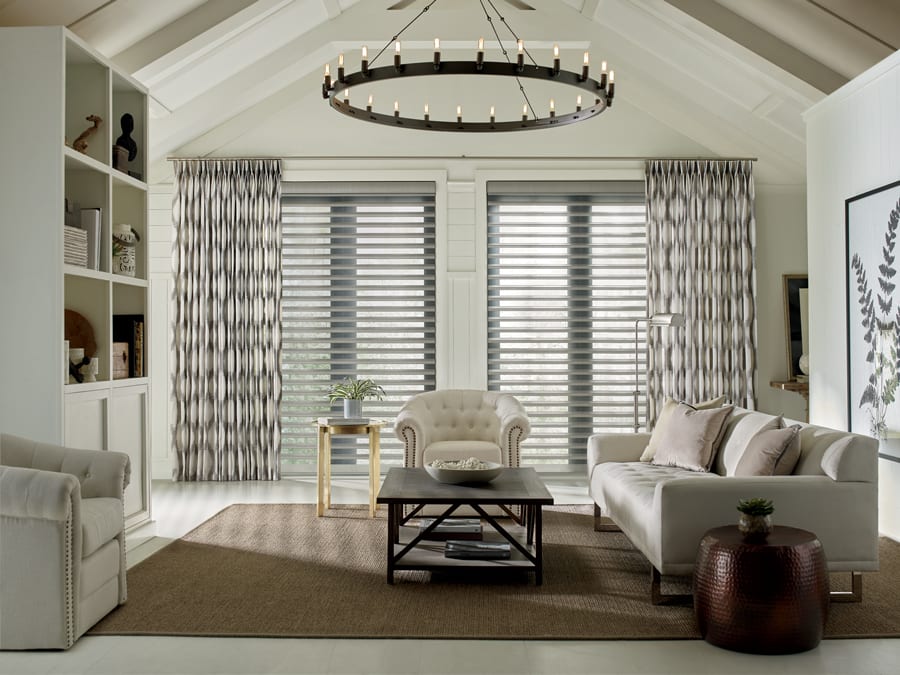 #4 TrackGlide: Tilt Turn & Tricky Windows
It has been said that "necessity is the mother of invention," and nowhere is that more true that the TrackGlide system. Tricky windows where there is no room for shades, french door glass with no frame for window treatments, and especially, Tilt Turn windows. This operating system adheres to the frame–without actually being on the glass. Discover how to cover your trickiest windows.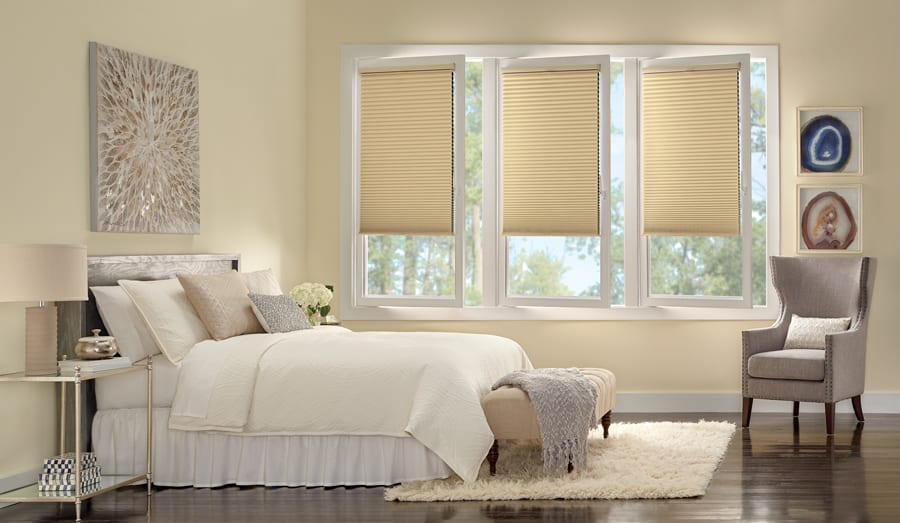 #5 Dual Shades: The Best of Both Worlds
Each year, Hunter Douglas adds to the list of products available with the "dual shades" feature. Technically, it's called Duolite, and as far as window covering innovations go, it's genius. Light filtering for when you want to enjoy view-through filtered light. Room darkening when you want the light blocked.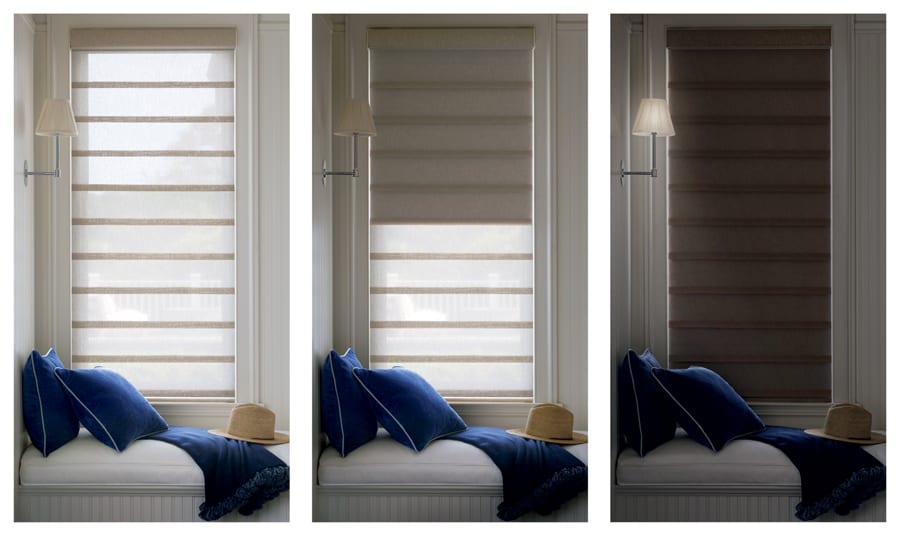 Window Covering Innovations: Do You Have a Favorite?
As the year comes to a close, we're reflecting back on product launches, new features and exciting announcements. But, what do you need in your home? Do any of these sound like a good fit? Stop into one of our Houston area showrooms to find inspiration and guidance. And then, we'll be happy to come to your home for a free, shop-at-home appointment where we can help you tackle your projects together! Contact our team at Creative Blinds today!