We know what you're wondering…tricky windows? Do I have them? Chances are, you do. We define tricky windows as having specialty shapes, unique operation or challenges due to layout. They can be tough to cover because of size, shape, fit or function. And, by covering them, you may fear losing out on what makes them special. Let's take a look at the best ways to meet the challenges, while adding to the character of your home…
Specialty Windows
Which specialty shapes are normally found in homes? Angled and arched windows are the most common. They add variation to the look of homes in neighborhoods. They set apart the overall look of entryways and great rooms. But, these become tricky windows when they let in too much light and heat, or just not enough privacy in the evening. Custom windows need custom window treatments. 
Angled Windows
Offering gorgeous character, angled windows heighten the look of your home. Are you limited on coverage? Not if we can help it! You can cover your space while enjoying the dynamic style of your windows. Window shades, plantation shutters and blinds are all choices in window treatments for angled windows.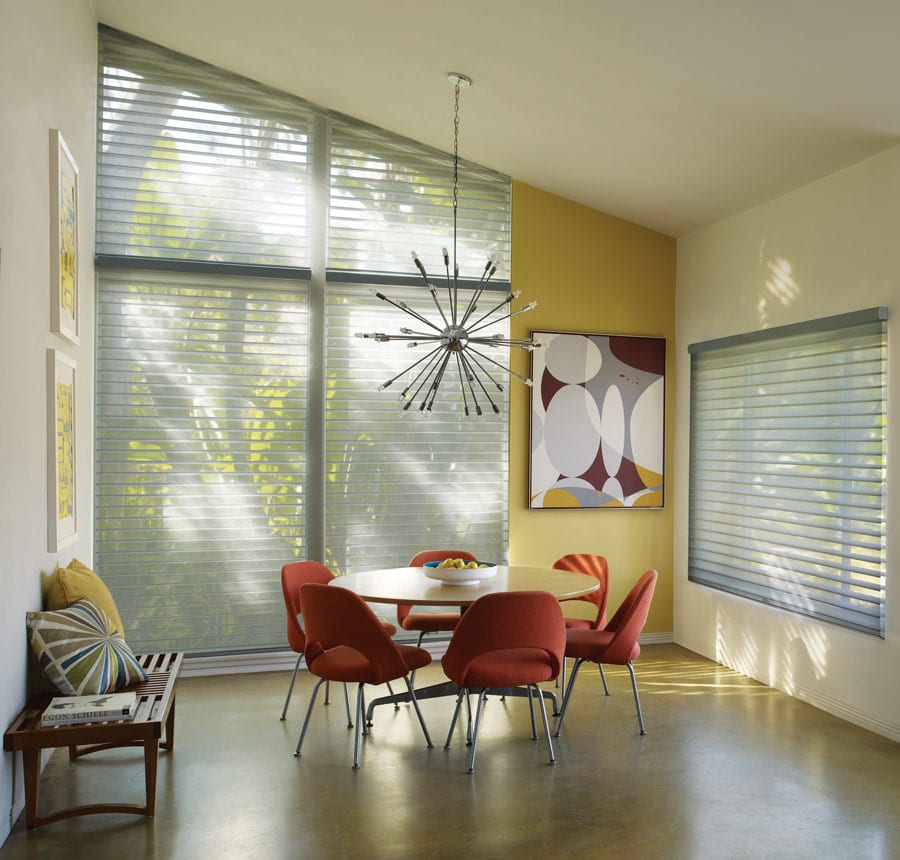 Arched Windows
Like angles, arches also can be covered with custom window treatments to maintain the character of your home, but gain the control you need.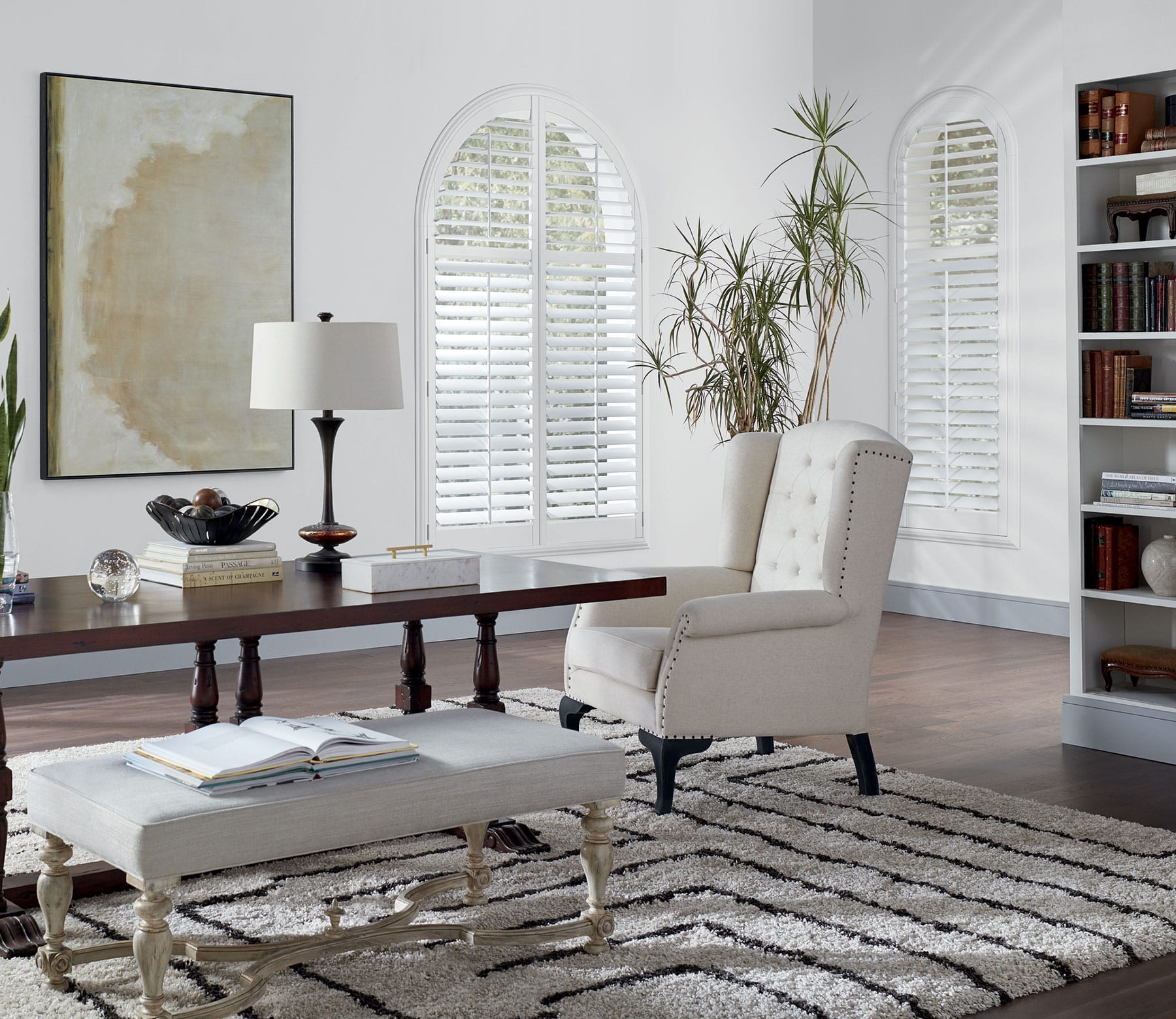 Sometimes, you cover the entire window. Other times, leaving the arched section open at the top allows for a regulated amount of light control. Daylighting illuminates the room, but privacy and levels of lighting are controlled.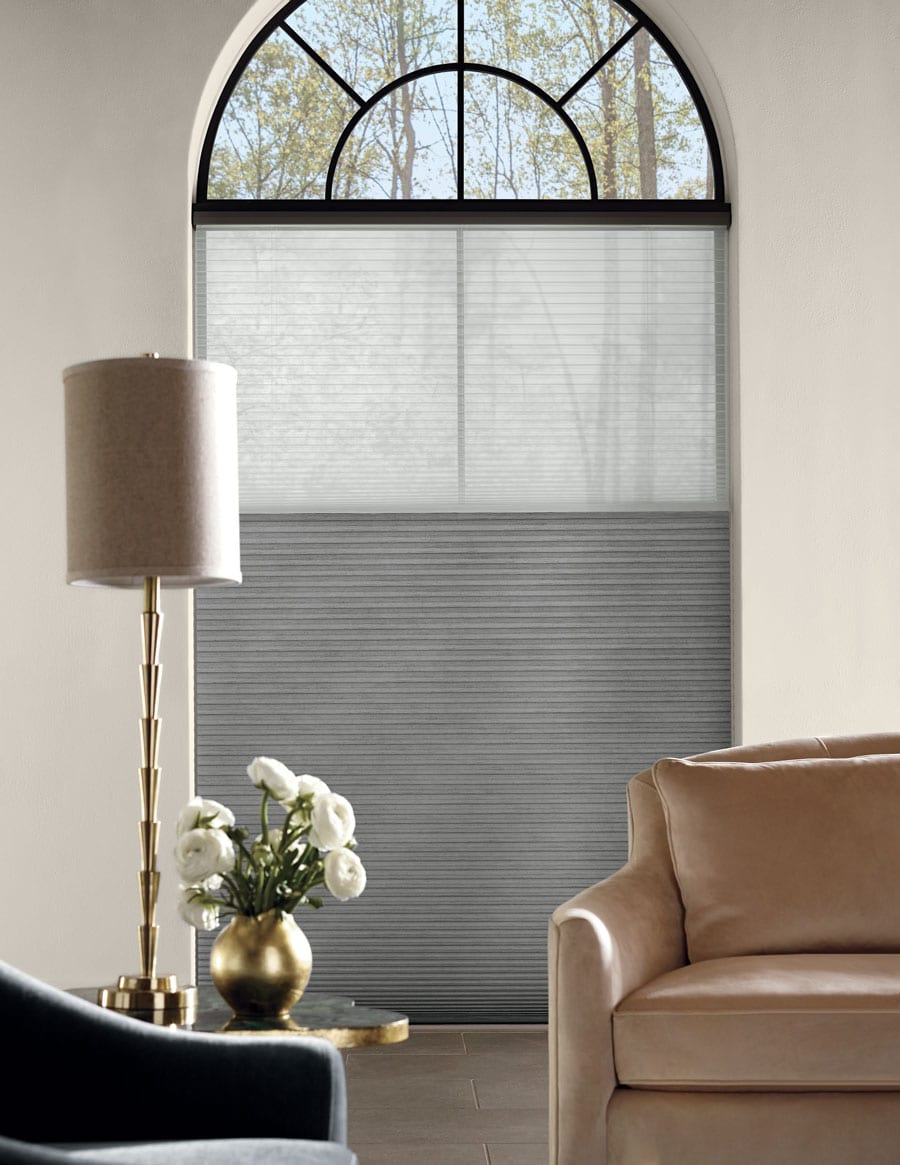 Tilt Turn Windows
More recently, European style windows, also known as tilt turn windows, have become popular. These windows offer the option of tilting in at an angle or opening like a door. They offer access to the outdoors, creating an open, airy atmosphere. But, they are big on our tricky windows list. How do you cover them?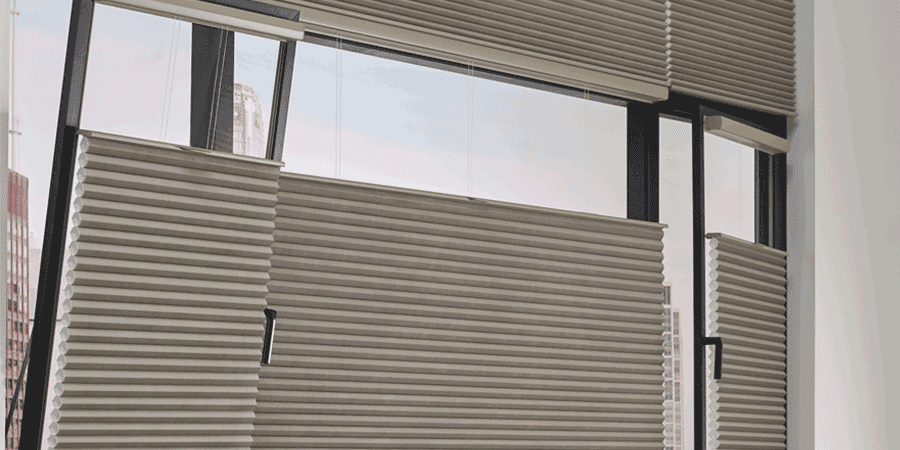 The TrackGlide™ System was created with these tricky windows in mind. The track runs allow the very edge of the window frame, allowing the window coverings to slide up and down. Light control–even room darkening–is possible. Top down is also another dynamic feature available with this operating system. Learn more about this solution.
When Window Placement Makes for Tricky Windows
Standard windows can–all of a sudden–become tricky windows only when deciding to cover them. The challenge might be how close together the windows are, or an attempt to maintain a certain feel of the space. When the layout and placement of the windows deviate slightly from normal, it can feel daunting to know which window coverings will work best.
Bay Windows
The window treatments you add to bay windows should extend the design of your home, into this specialty area. Maybe it's a breakfast nook, or an area off of the living room–regardless of where you have bay windows, they make your home unique. One challenge might be when the framing seems too close together. Inside mount–the window treatments attached inside the frame can be a great way to avoid functional issues.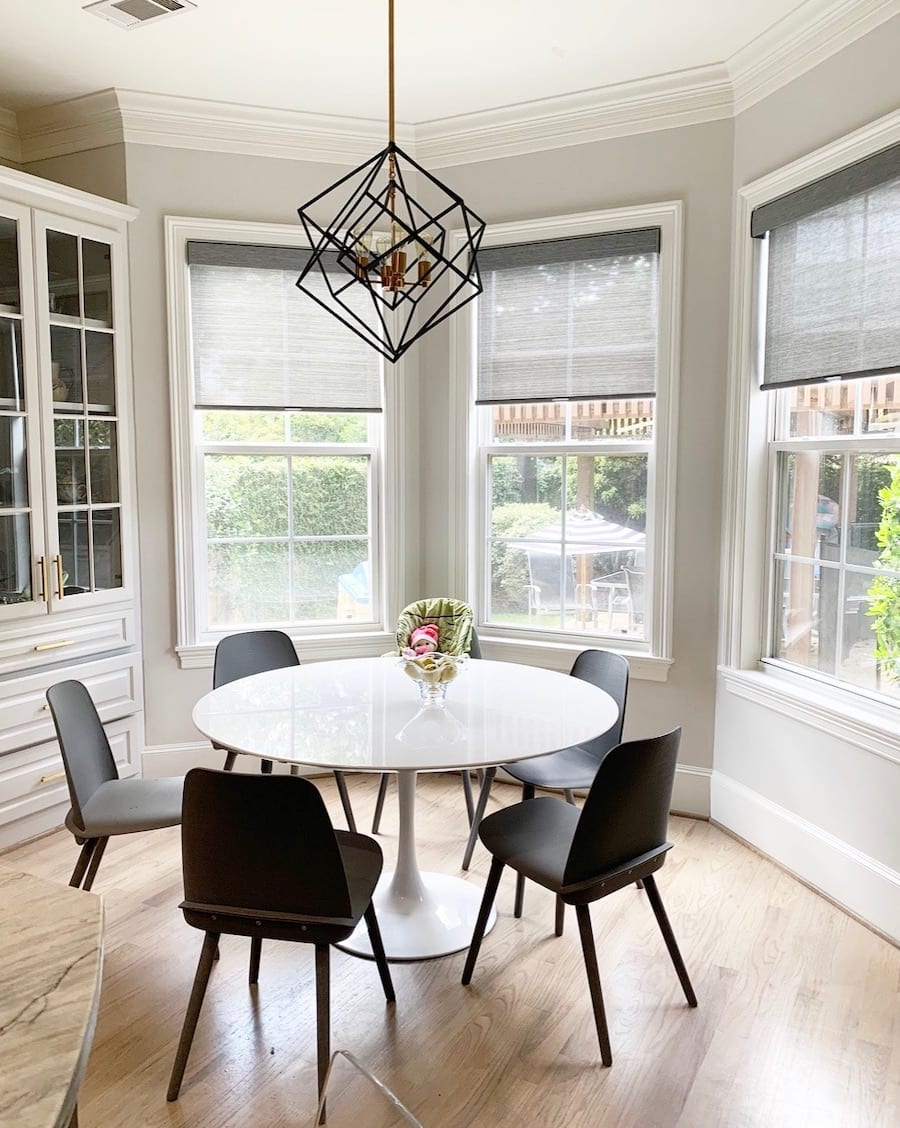 Questions to ask yourself should not only be about coordinating the style of your home, but also addressing the comfort of the space. Do you want it to feel cozy? Should you try to maintain an airy, open vibe? Your window covering specialist will work closely with you to determine the best choice for you and the atmosphere of this quaint spot.
Corners
When windows come in close contact at the corner of the room, it can provide a very open feeling for the atmosphere. But, there are times when you'll want to block the light, diffuse the sunshine or altogether stop the view inside. Don't despair! We have solutions to cover tricky windows so you can have it all. Custom solutions will ensure that you enjoy your home to the fullest.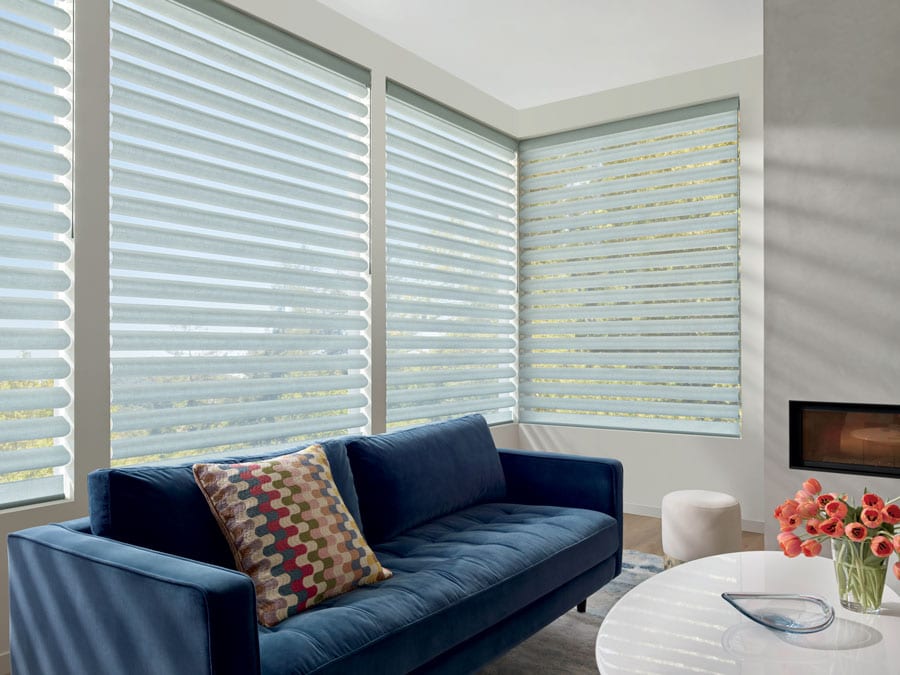 Transoms
These short, wide rectangular window openings were created for the same reason that people love top down shades: Daylighting. They are separate from your other windows, letting in light near the ceiling. To cover them–or not to cover them? The choice is yours. Consider heat, light & privacy when trying to decide.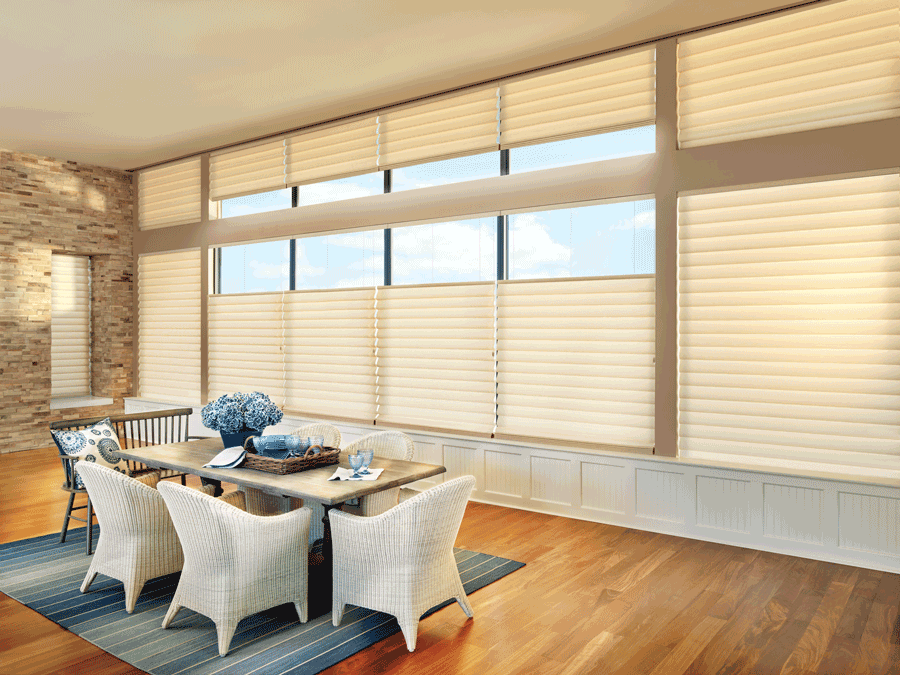 In the home below, shade is provided from the outside tree coverage, as well as the dark ceiling is this space. Leaving the transoms bare allows for just the right amount of light to enter. These choices are always unique to your specific home, style and preferences.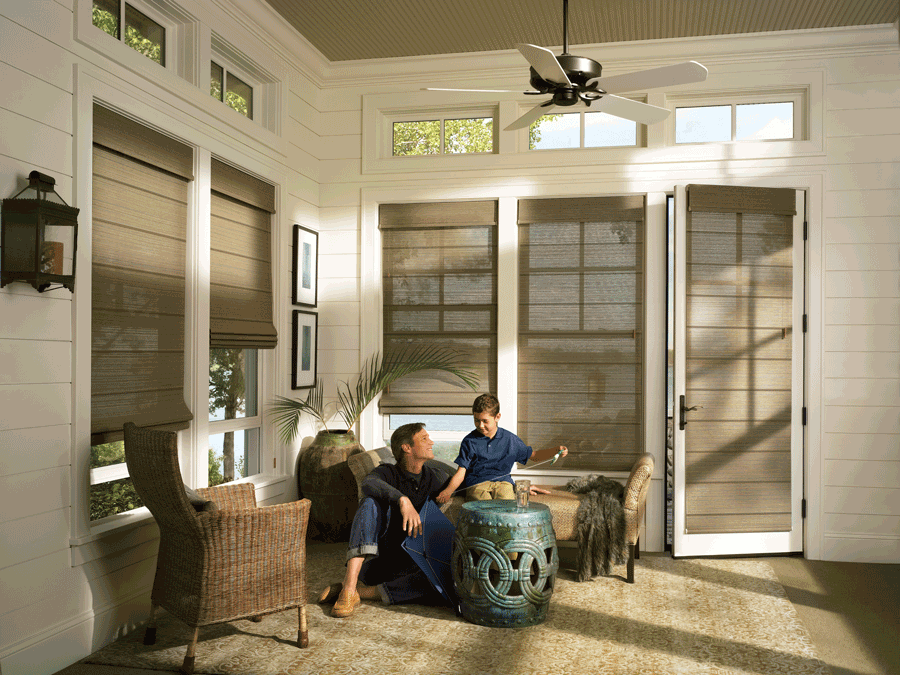 Skylights
If you're lucky enough to have skylight windows in your home, you know they can illuminate the space beautifully. But, letting the sunshine pour into your home at all hours of the day doesn't always set the right scene.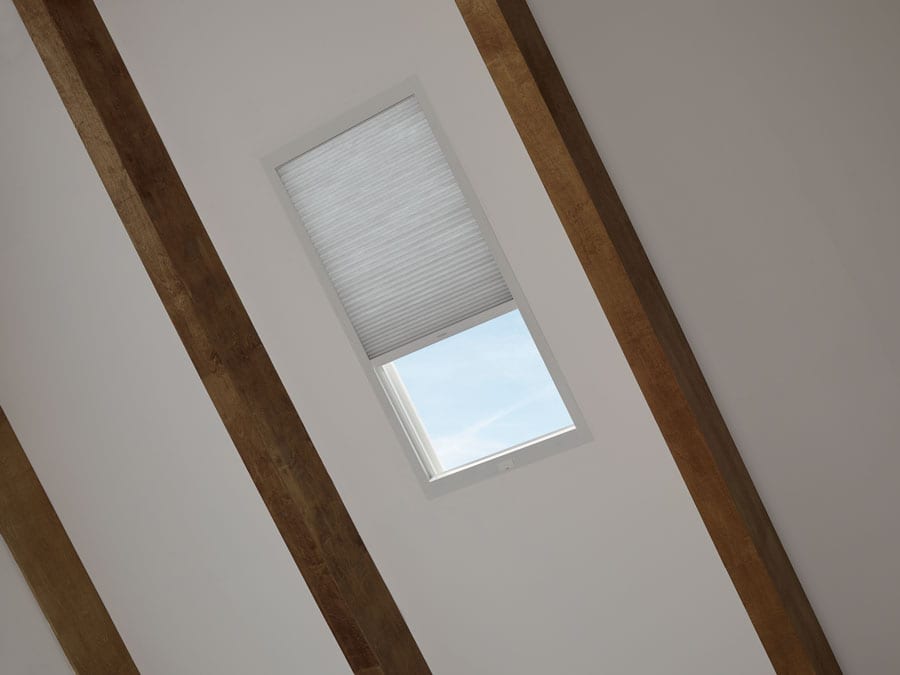 How to Get Started…
Getting started is always the hardest part. But, with our team at Creative Blinds, finding solutions for your tricky windows doesn't have to be difficult. Don't start by feeling overwhelmed. We can help by listening to your vision, showing you inspiration and sharing product ideas. Contact us for your FREE consultation today.