If you're a pet lover, you know the drill. They make messes, chew up shoes and shed hair like there's no tomorrow. But, they also fill our homes with love–and we can't imagine life without them. When it comes to pet friendly window coverings, we've got answers to some of the most frequently asked questions…
Which Coverings Stay Clean?
This is a great question–from a lot of pet owners. The hair and dirty paws can lead to frustration. The answer depends heavily on the location of the windows or doors where the pets spend much of their time.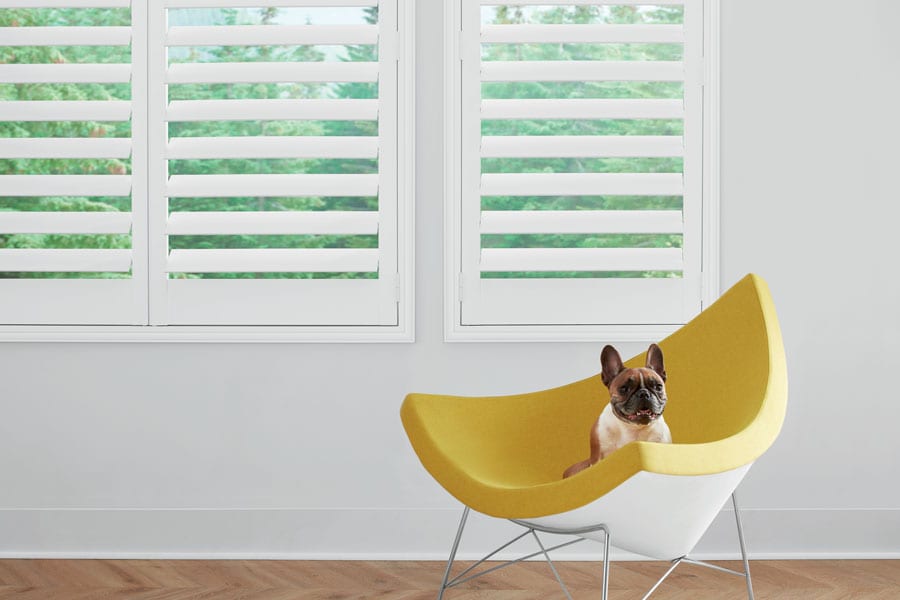 Shutters are a terrific option for pet friendly window coverings. They're wipeable and durable. Other options will include window treatments made of materials that can be easily wiped off–or moved out of the way if the pet is entering and exiting the home. 
What About Windows Where Pets Jump or Climb?
If the window sills of your home are part of your pet's territory, it's a good idea to know that ahead of time. In specific rooms where this is the norm, the operating system you choose will be very important.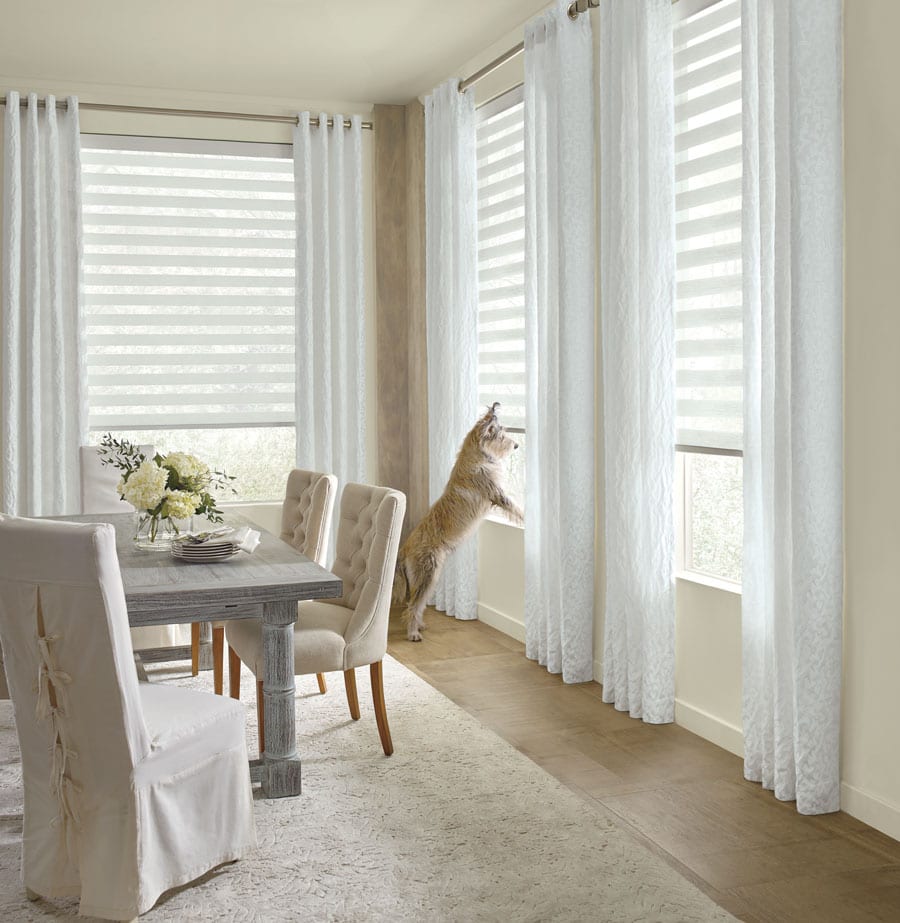 When considering pet friendly window coverings, you're choosing how to keep your pets safe–and your shades safe! We recommend cordless window treatments. No dangling cords to tempt them to play. They can't even "accidentally" get tangled with cordless.
We Need to Block the Hot Sun, But Our Dog Loves to Nap in the Sun.
Pets love to lie in the hotspots around your home. They get cozy to take a nap, and you could start sweating just looking at them, right? If you're wondering how to create a balance of temperature control in your home, we can help.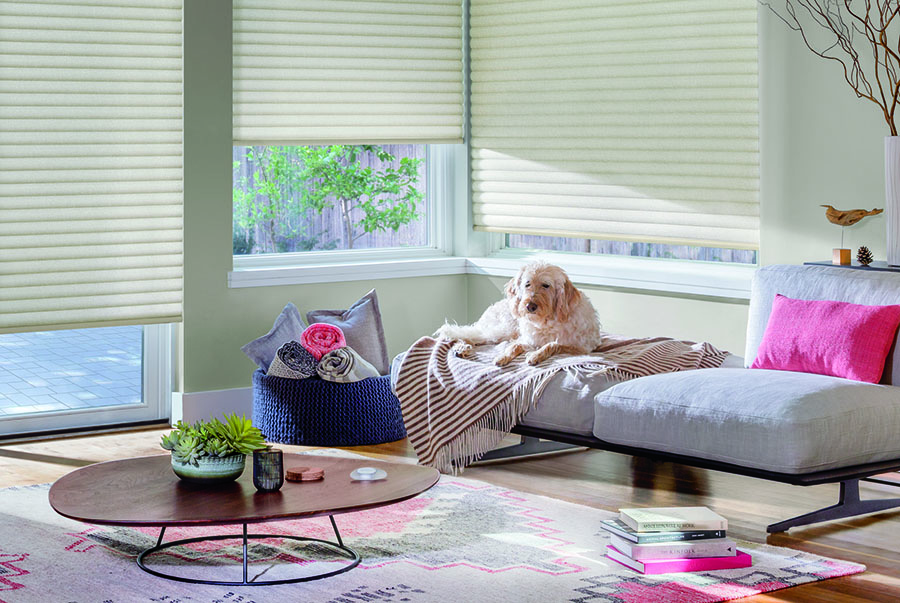 With energy efficient shades, like honeycombs or romans, you can cover the majority of the window while the "hot spot" your pet loves is still there. 
Pet Friendly Window Coverings for Active Pets or Anxious Pets
In addition to jumping and climbing at the window, some pets just have to know what's going on outside of their four walls. They need a view, but you need control. In many cases, allowing them to see outside helps them feel like they're part of the great outdoors.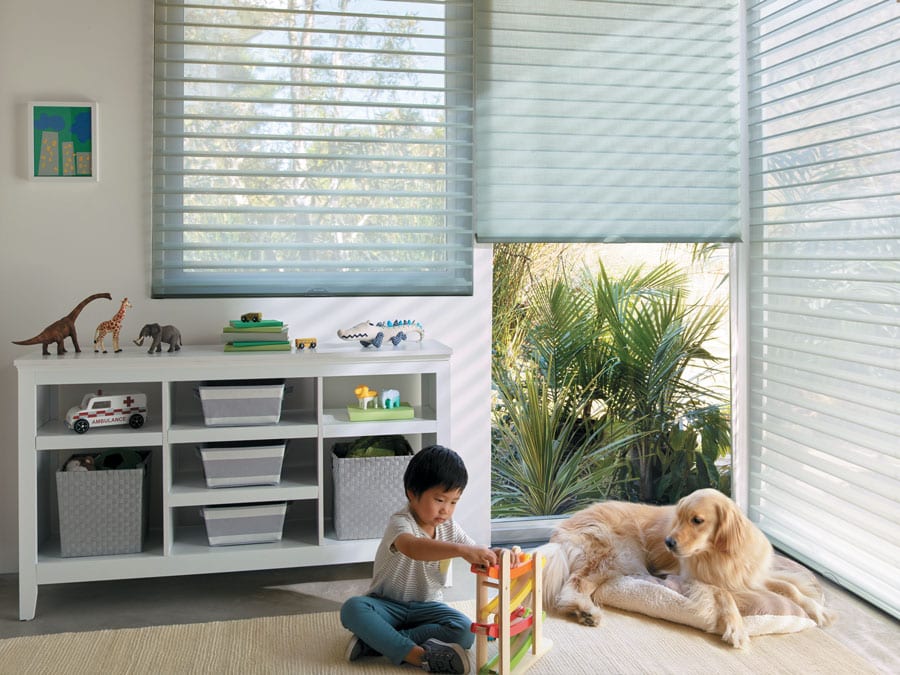 But, for pets that need to have the view blocked to stay calm, it doesn't mean you have to close out the world. Many window treatments offer the option for view-through or closed off, and you can tailor this to meet your pet's schedule. Automation has been a life-changing feature for the furry family of many of our clients, allowing them to enjoy soft light during quiet times, but closing when the foot traffic increases.
You'll ALL Be Happier.
Don't wait to decide because you don't know which pet friendly window coverings will be best for your family. Our experts, at Creative Blinds, will be happy to talk through it with you, visit your home and discuss the best options. There are answers to your most pressing questions. Let's get started with a FREE consultation!