There's a stunning trend in window treatments that we can't help but show off. It's layered fabrics as the art of the window. Similar to the way wardrobe pieces complement each other, layering various colors, textures and fabrics, so do layers of fabrics at the window. But, don't just take our word for it. Let's look to fabric designer, Marcie Bronkar, whose ability to create stunning patterns will heighten the style of your home–and upgrade the atmosphere.
Say Hello to Unique Design
Marcie Bronkar often finds inspiration in historical design…leading her to recreate that inspiration in modern ways, which results in an everlasting look. Scrolling through her collection of textiles, you'll recognize traditional style elements, but done in a way that brings those patterns into contemporary design.
Soft Neutrals
Believe it, or not, neutrals can be tricky to pull off–the last thing you'll want is a stale, boring look. But, this living room space nails the design with layered fabrics that create height and dimension without overwhelming the look.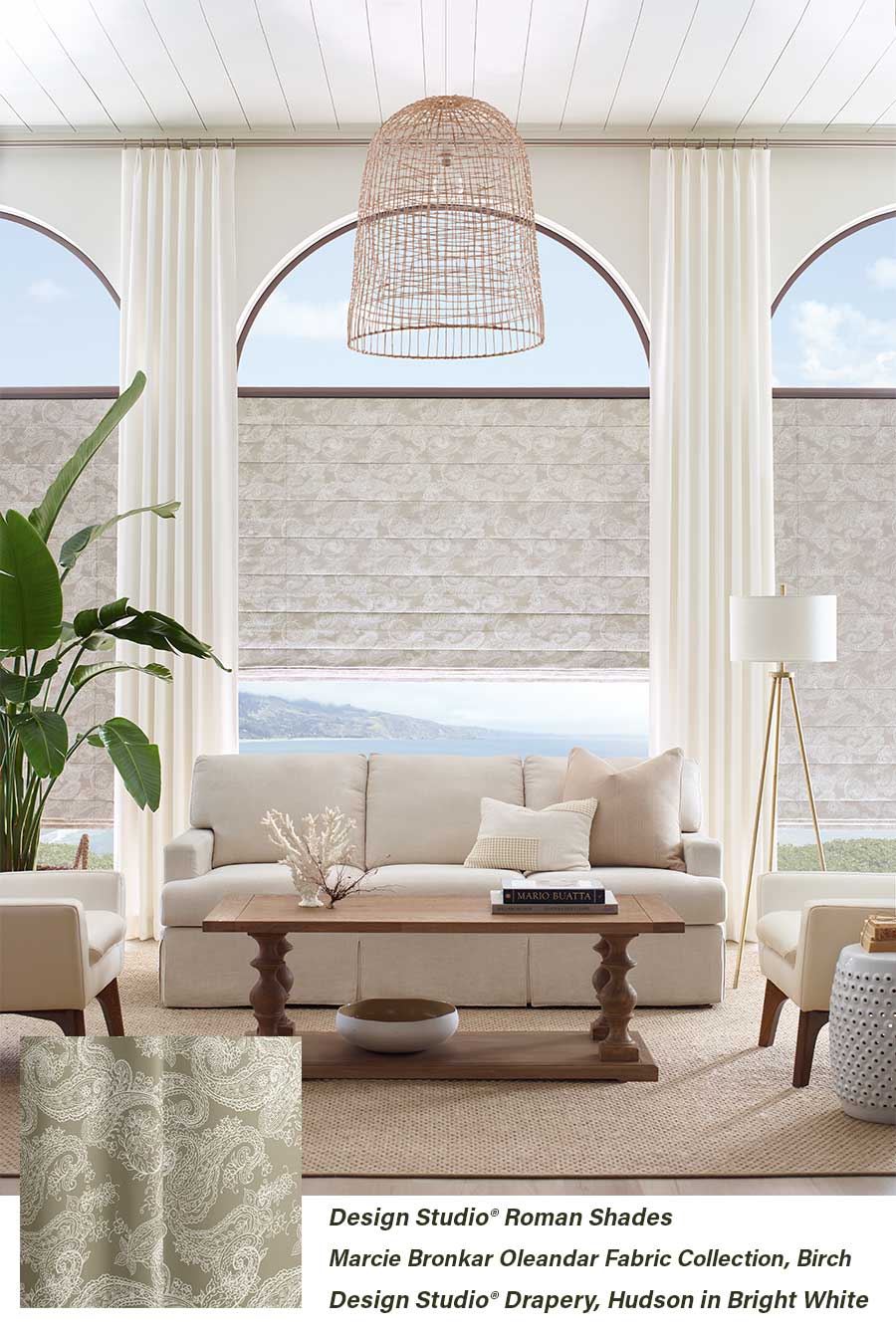 Ceiling-height draperies are meant to focus the eye upward and frame the gorgeous arched windows. The roman shades offer the light control needed, without covering up those arches. 
Moody Designs
Who can pull off dark & moody? Just about anyone–if you're careful! This on-trend color scheme is taking over home design, and it's not a surprise. But, the key is knowing when enough is enough. Choose colors in a moody palette of your liking, and style layered fabrics–mixing patterns with solids. Ready for the most important step?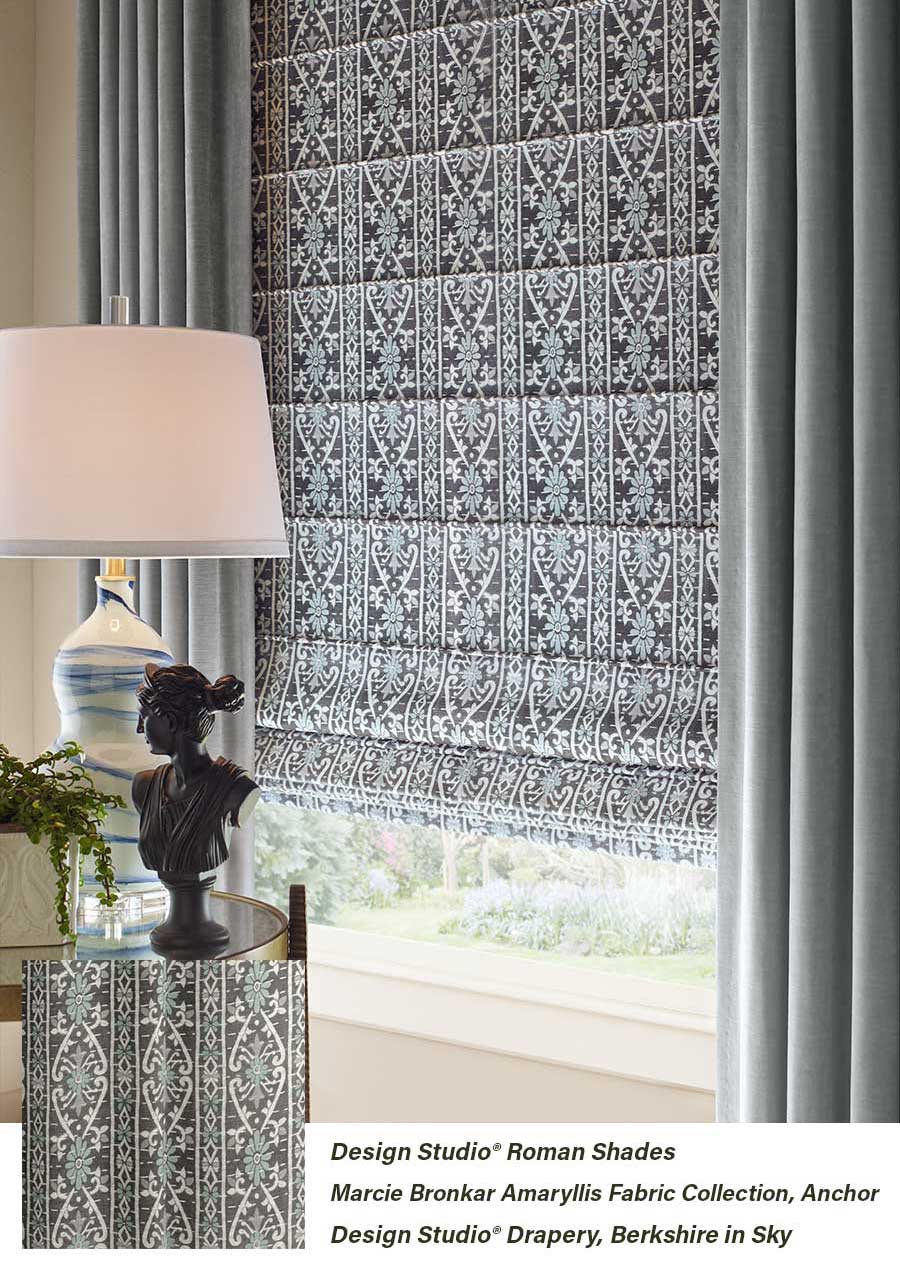 Balance the space with plenty of light colors to create the right atmosphere in your home. This Amaryllis fabric collection is the perfect choice in timeless design. With solid layered fabrics on each side, you'll not only achieve your moody look, but you'll get incredible function from the window treatments. What do we mean?
Style + Function
We've talked style…but, layered fabrics can provide some serious function in your home. The base shade will certainly offer light control and privacy. In some cases, like with roman shades, you'll also get protection against the elements by way of energy efficiency and blocked UV rays. From there, you can choose to enhance the function of your space with room darkening and automation.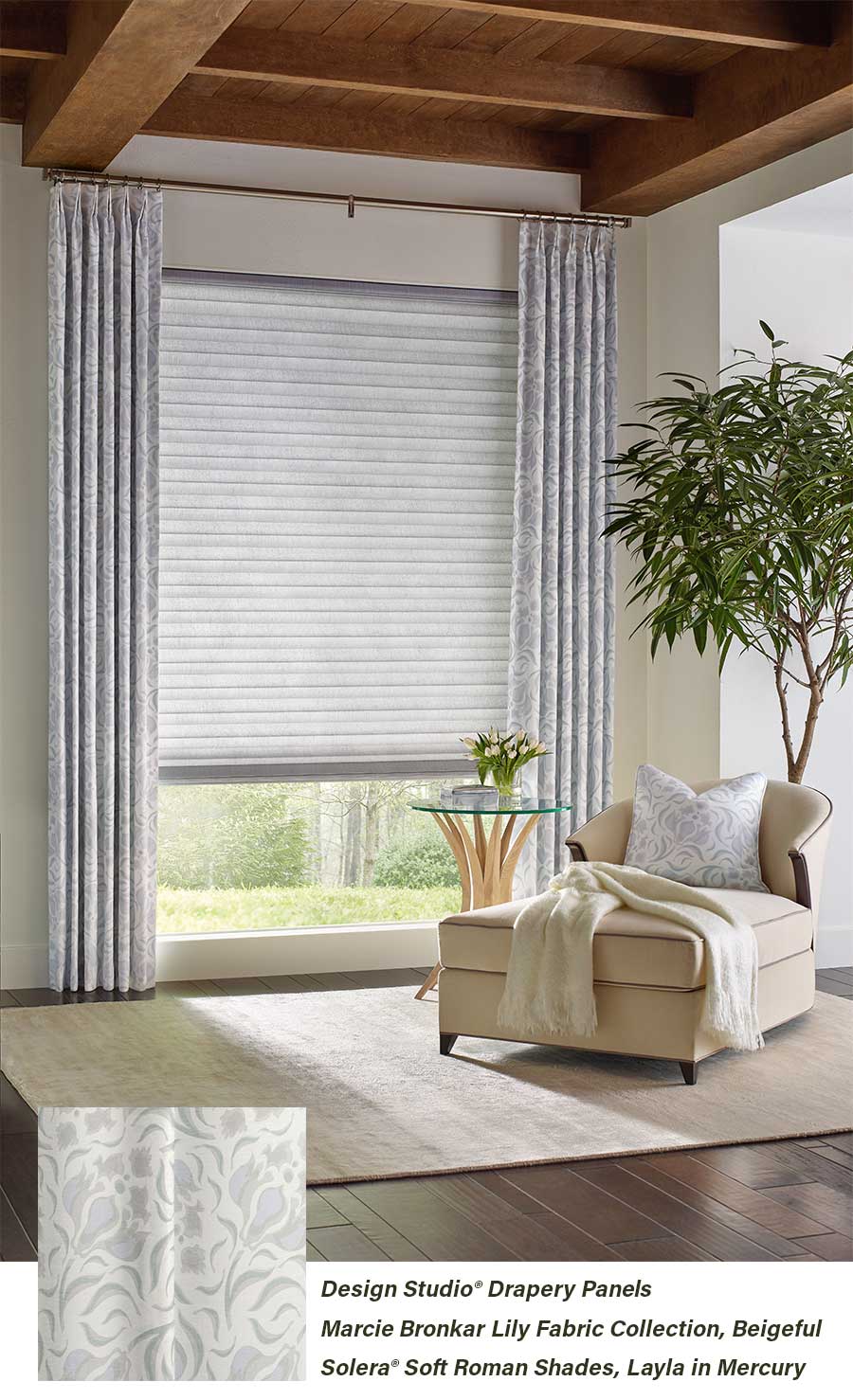 Once the window is outfitted with the function you need, beautify the space with colors and patterns. This living room window showcases how a solid base shade is taken to the next level of styling by layering with patterned draperies.
Love the Layered Fabrics Look?
We do, too! Create elegant style and impeccable function in your home by adding this enduring style statement at your windows. Our expert designers would love to help you. We'll come to your home to choose fabrics that complement the design of your Houston area home, while helping you solve any issues your windows are causing. Get in touch with the team at Creative Blinds for your FREE consultation.