The season of gatherings is upon us, isn't it? With fall festivities taking place and Thanksgiving just around the corner, are you thinking about creating an inviting look for guests? We "gathered" some entryway inspiration, just for the occasion, with tips to help you create your own look!
Start at the Beginning
Nothing welcomes guests better than a beautiful front entrance. Here in Texas, we don't get the chance to celebrate seasonal changes. Your front entryway is a great way to mix up the style–creating a holiday scene with the "change" we sometimes crave this time of year.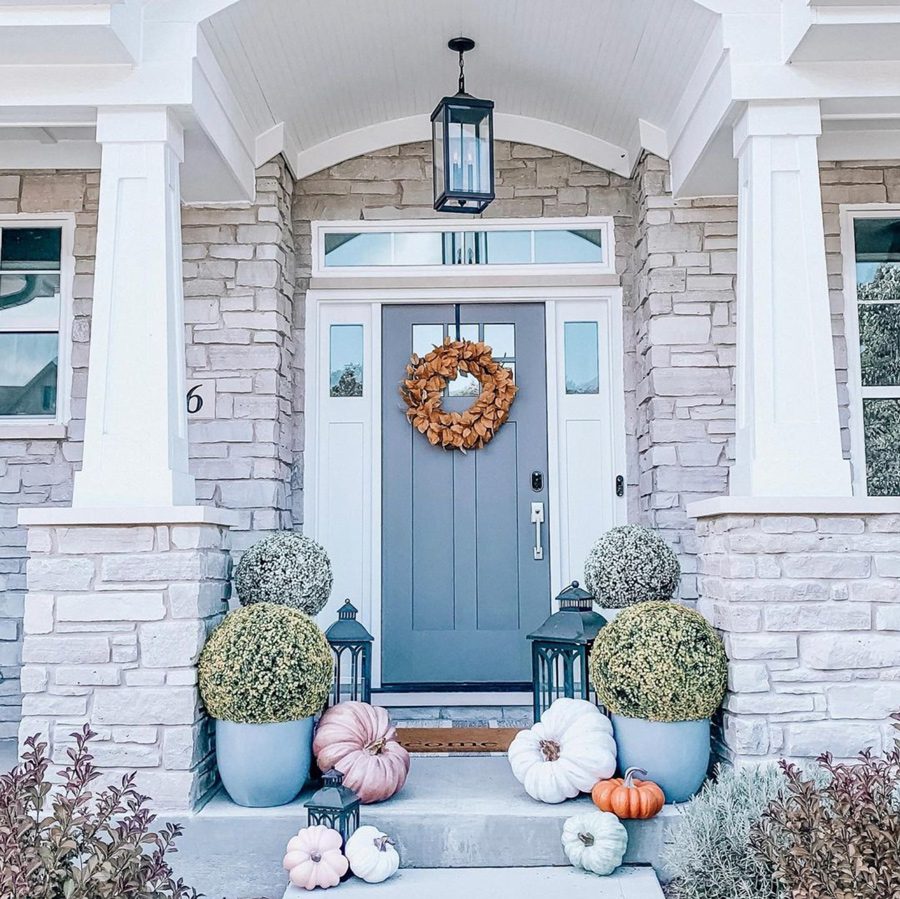 We love how Kaitlyn, of @kaitlynjanemiller on Instagram, styled the front of her home. The round boxwoods offer year-round styling, while the softness of pastels suit the style of her home–the pumpkins are a subtle nod to fall. Adding a wreath to the front door is another great way to mix things up over the course of the year.
Keep It Simple
No matter your decorating style, there's one thing to consider when styling the entrance of your home. Keep the decor at a minimum to create an open and inviting feel. Give guests room to move around while also appreciating the decor.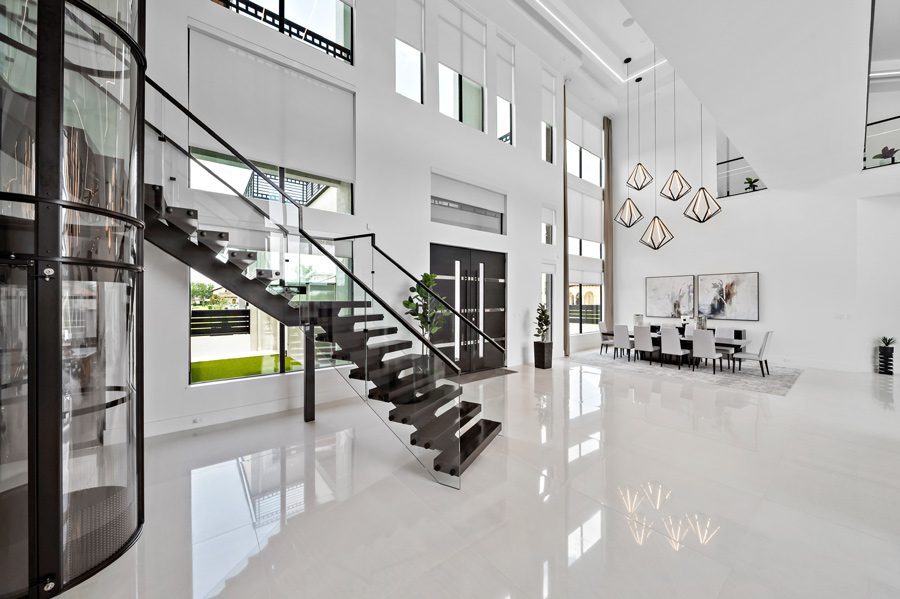 If you're working with an open floor plan, resist the urge to "fill" the space. Instead, embrace the open, airy vibe it offers. Focus on creating the right atmosphere, especially if there are a lot of windows. This Houston area home needed adjustable light control for those hard-to-reach windows. We outfitted them with sleek roller shades. And, with smart shades, your home can feature perfect lighting all day long with effortless control.
Choose Entryway Furniture
If you search entryway inspiration, you'll find a variety of entryway tables and benches. They are two of the most popular pieces in the front of homes. The reason? They each fit the profile–so often, entryways are narrow or short on space. They also add visual interest to the look, creating a flow of decor throughout your home. And, finally, for busy families, it can introduce significant function with much needed storage.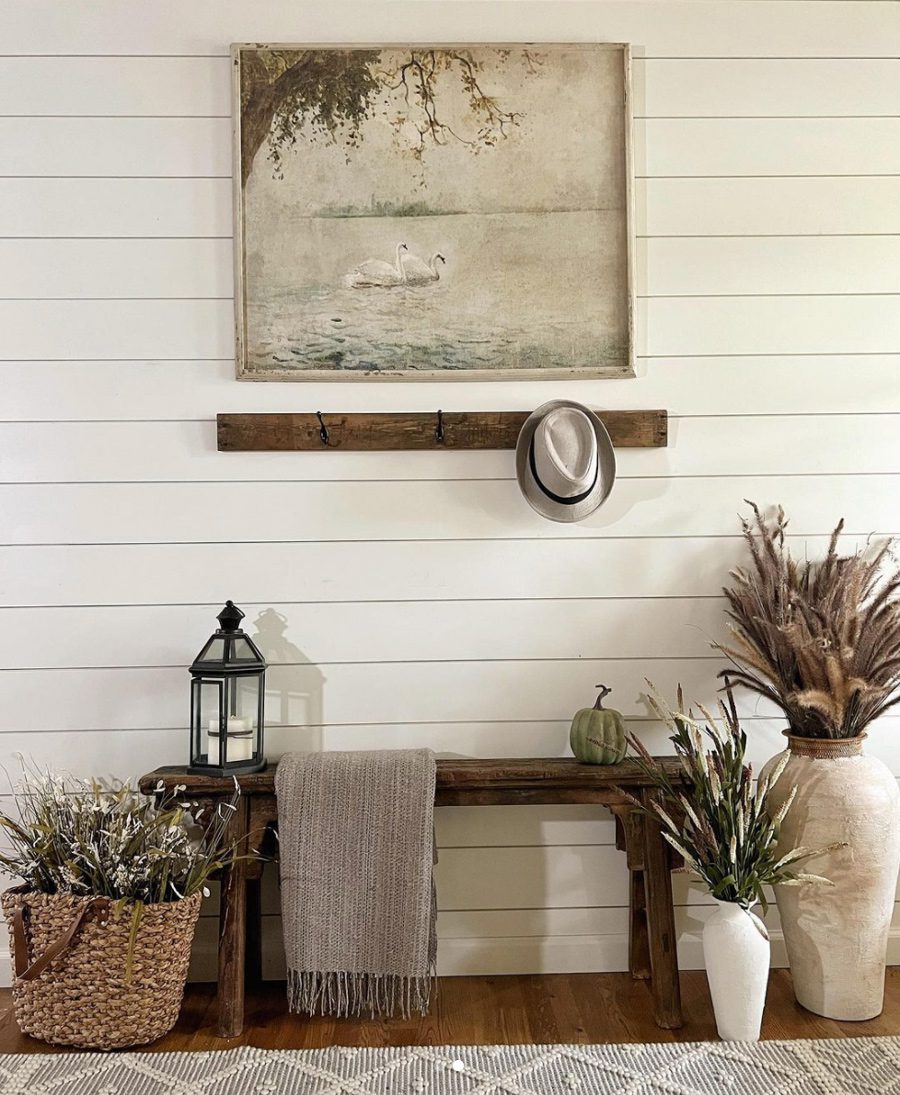 This entryway, by Tammy of @lavenderbrookfarm on Instagram, showcases a shallow wooden bench. A perfect place for family or friends to hang belongings and place shoes when visiting, it's also a beautifully styled space.
Consider Style Tips
No matter your decorating style, there are certain "rules" you can follow to create your own look. Of course, you know your home best, so keep in mind, what works in one home may not be good for another.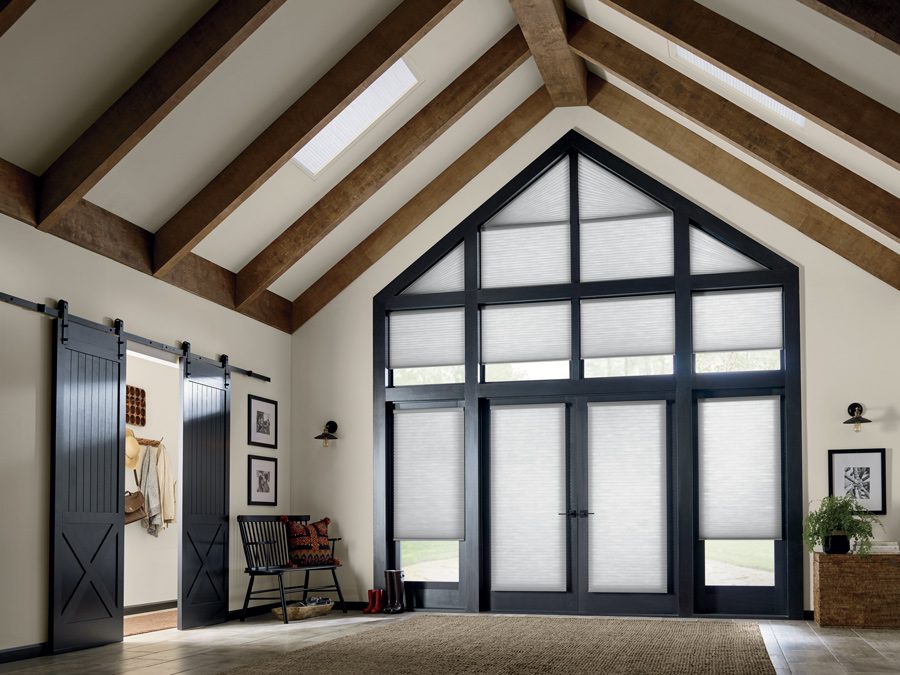 If you'd like to style your own entryway, here are some tips to keep in mind:
Use the color scheme featured in the main living areas of your home for coordinated design
Keep decor minimal, being intentional about pieces you select
Use "storage" as decor, such as baskets, a dough bowl, candles–items that offer lifestyle benefits
When hanging mirrors or art, choose pieces with width less than the entry table or bench
It's important to remember that you want an entry that maintains a balance of both style & function.
Loving This Entryway Inspiration?
We do, too! At Creative Blinds, we'd love to help you create a gorgeous look in your home, along with the lifestyle benefits window coverings have to offer. To see other Houston area homes, visit our design portfolio, where you'll get a chance to scroll through recent projects we've done, room by room. If you'd like to see the design elements up close, visit one of our four area showrooms. Get in touch with the team, for your FREE consultation, and let's get started today!