Is your bedroom the perfect place to go to unwind after a long day? If your answer is no, we need to change that! We all deserve a personal space where we can go to just decompress. Your bedroom should be cozy, comfortable and styled to create an atmosphere customized just for YOU! Try these bedroom design tips, and create a sanctuary of your own. It's just what you need!
#1 Color Me Happy
Have you heard the buzz online about the choice for Color Of The Year 2021? It's all about balanced color combinations this year, like this yellow and gray bedroom. Just by pairing a neutral shade with a pop of color (any color!), COTY has made it so simple to bring happiness into your home! So, choose a color combo that makes you smile for your bedroom design!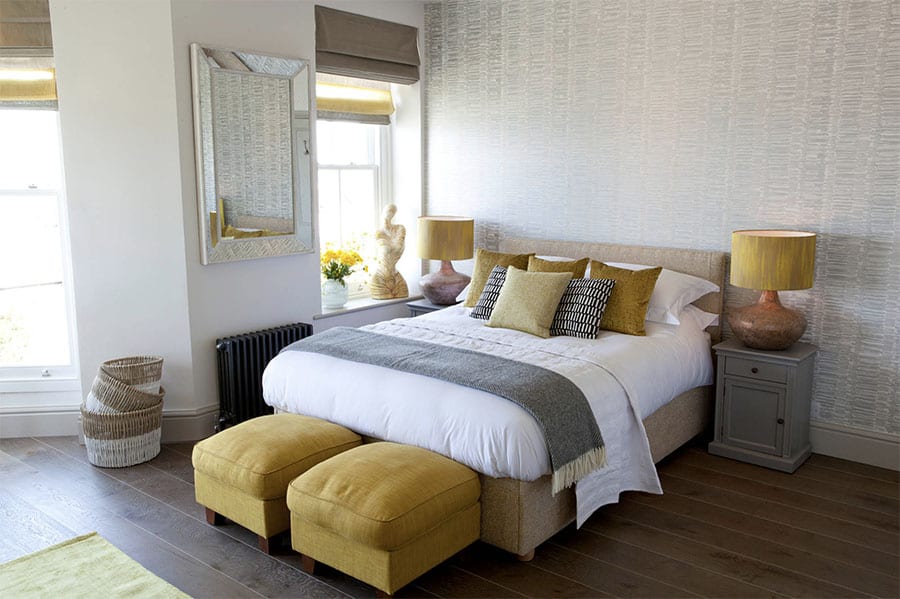 Interested in seeing some of our most popular bedroom design projects? Head over to our gallery of rooms to browse recent work. You might see exactly what you'd like to have in your bedroom!
#2  Fabrics Bring Personality
When it comes to bedroom design, adding personality is a MUST! After all, our bedrooms are our most intimate space, and they should represent who we are and all the things that bring comfort! Do you share your bedroom with someone? By choosing design features for the bedroom that paint a picture of your life together, you both will enjoy the gift of good night sleep.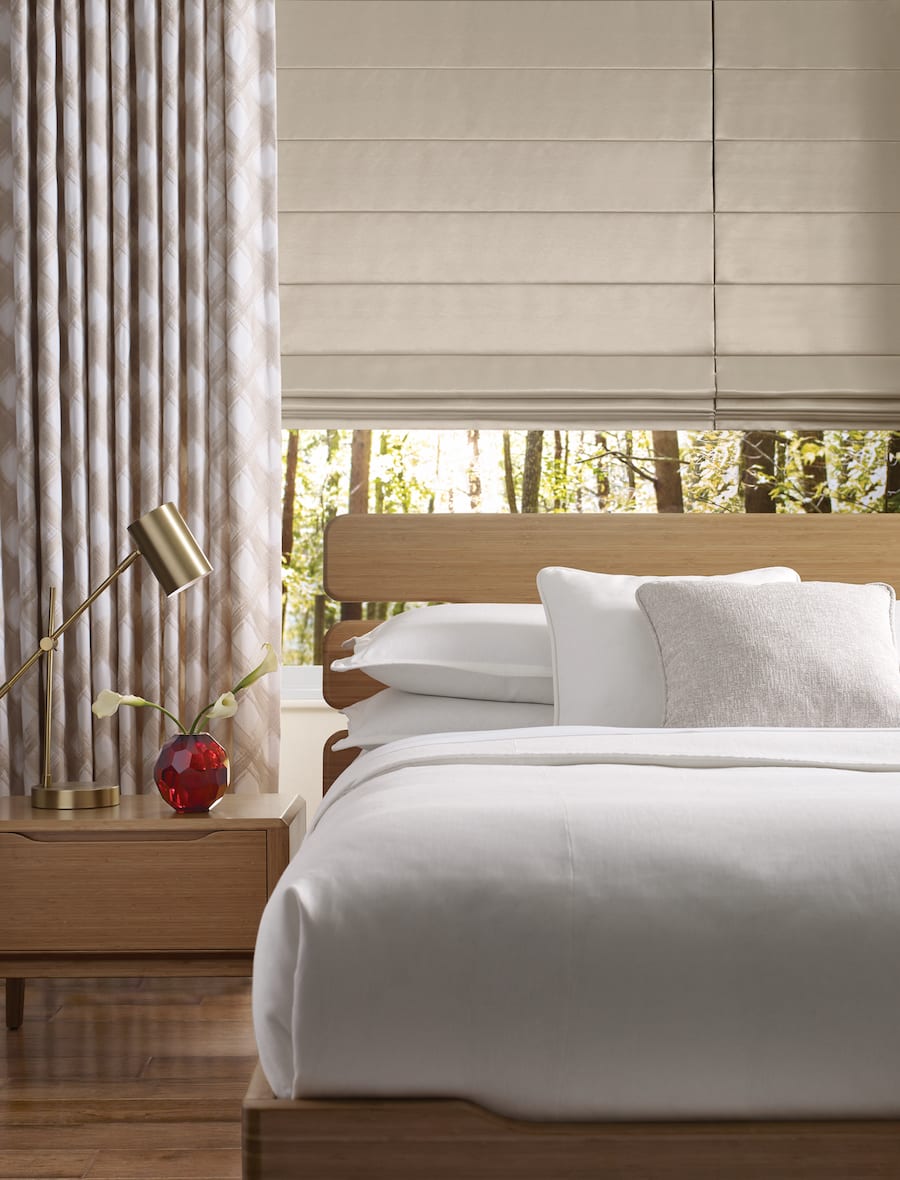 Fabrics at the window are a great way to enhance the look of your room. Patterns, textures and colors create a stunning display. Custom window treatments frame the window for both style and function. Just like adding throw pillows or new bedding can enhance the look of your bedroom, so can draperies and window shades. Beautiful wood shutters are another customized look, often chosen to complement the design, but also when specialty windows should be highlighted, such as arched and angled windows. 
#3 Get Comfy 
Is your bedroom as cozy as it can be? Take a minute and think about how you feel in your bedroom…is it too bright? Does it lack privacy? Is the overall atmosphere not in line with your style? To up the "coziness" of your bedroom, layering textures adds the look of warmth, but not necessarily the feeling, just in case you'd like to keep it cool. Textured baskets, wallpaper, wood grain accents and area rugs are a few ways to "warm up" the space while not interfering with sleep.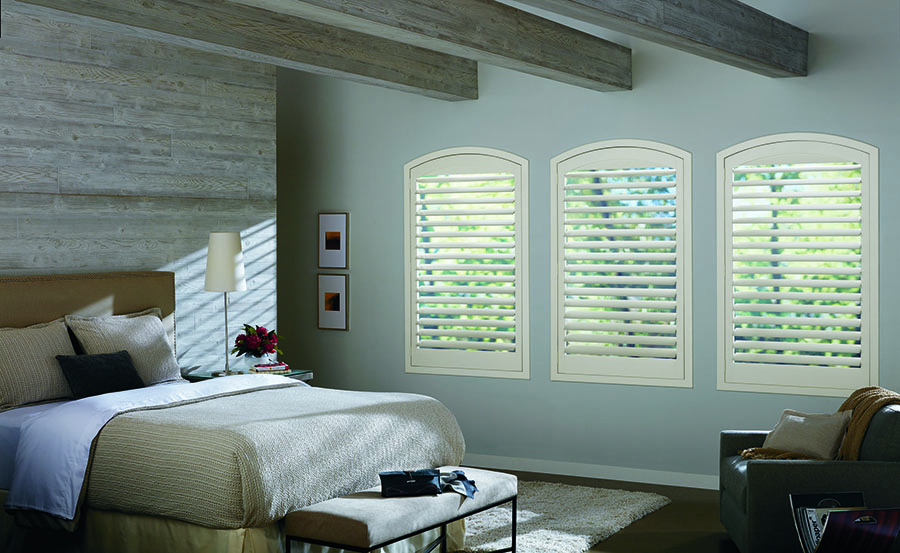 And speaking of comfort. Window treatments matter so much when you're trying to achieve the highest level of comfort for your bedroom. And, many problems can be solved with the correct choice of window treatments. (For you & your family!)
Enjoy sleeping in on Saturdays? Try room darkening shades.
Need confidence that your child will sleep better? These cordless shades  will let you sleep easy knowing your child is getting good sleep–in a safe environment.
Need privacy + light control? Top down bottom up shades allow for adjustment at any moment and are available with smart shade technology. Get the best of both worlds without lifting a finger!
#4 Tidy the Clutter
Has your bedroom become a "catch all" for the family? A place where clean laundry waits days to be folded. A "close the door and forget it" kind of room? It happens to the best of us. By decluttering your space, you will bring clarity and relaxation back to your life. You'll sleep better, feel better and wake up in a good mood knowing you have a tidy space to enjoy. Clutter be gone!
#5 Take in Fresh Air
Everyone could use a bit more of the natural world in their homes…our next bedroom design tip includes bringing nature indoors! By adding plants to the design of your home– even to your bedroom– you can improve air quality while adding a trendy design element.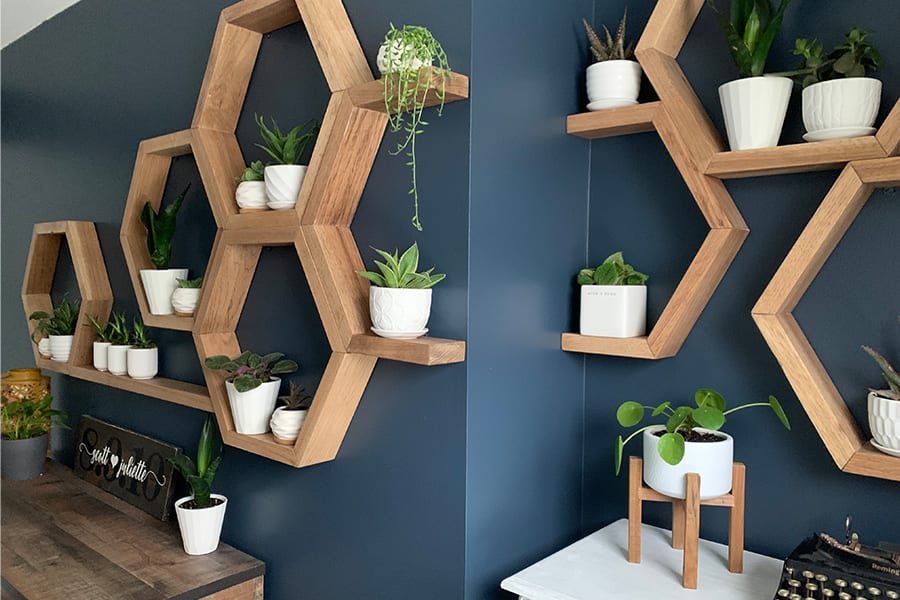 After all, we spend about a third of our existence in our bedrooms, don't we deserve to breathe fresh air?  Lucky for us, plants improve air quality. Even if you don't have a green thumb, with plants all the way upstairs in your bedroom, we can pretty much guarantee you won't over water!! Let's face it, plants just look cool–don't you think?
Begin Experimenting with Bedroom Design Tips!
Would you like to spice up the look of your Houston area bedroom? Let us help you design the perfect retreat!  With your ideas and our window treatment options together we can create a bedroom you thought you could only dream about. Contact us today for your FREE Consultation.  What are you waiting for?