We have countless window treatment options, but out of all of them, the Pirouette collection is certainly one of our favorites. When you walk into a room that has Pirouette shades, it's hard not to say, "Wow!" Yes, they're that beautiful! They offer incredible view-through, gorgeous style, and complete control. Plus, they're great for large windows. See how this shade will take your design to the next level…
Choose Your View: Soft or Crisp
The latest enhancement on our Pirouette shades gives you the option to choose between a clear, crisp view or a soft, filtered fabric. Clearview®, which features a black sheer fabric, leaves you with a defined view. The traditional fabric diffuses the light for soft illumination.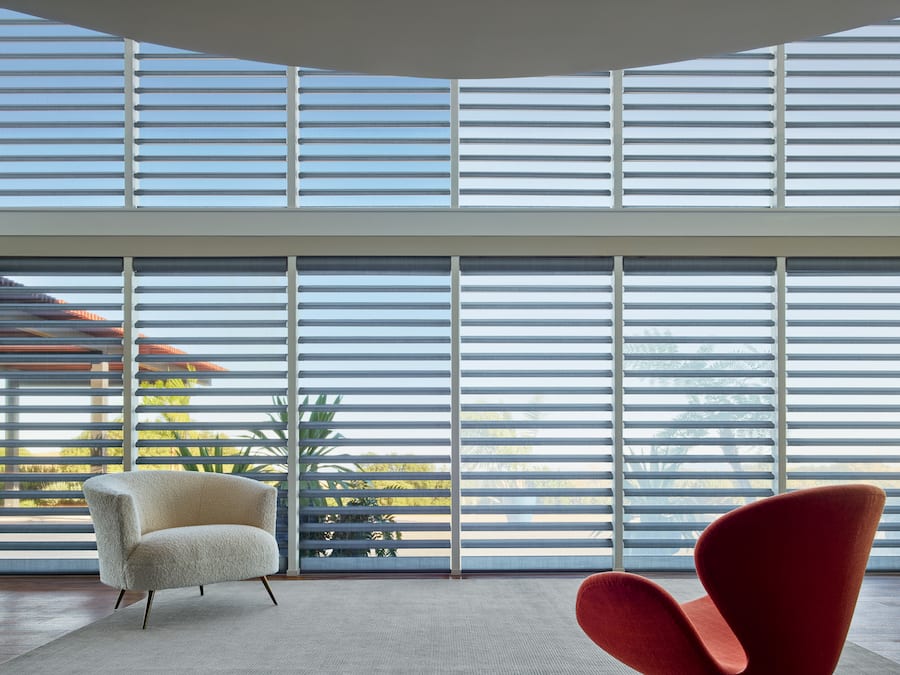 Here, you see both fabrics. The left side shows Clearview® and the right side is the original sheer fabric. They're both stunning and will transform your windows depending on your desires for your space. You choose your favorite!
Coordinate Your Window Treatments
Our clients come to us because they need solutions for their windows while wanting to maintain a certain design aesthetic. There is no "one size fits all." Our designers take into consideration your floor plan, style, and function of each window.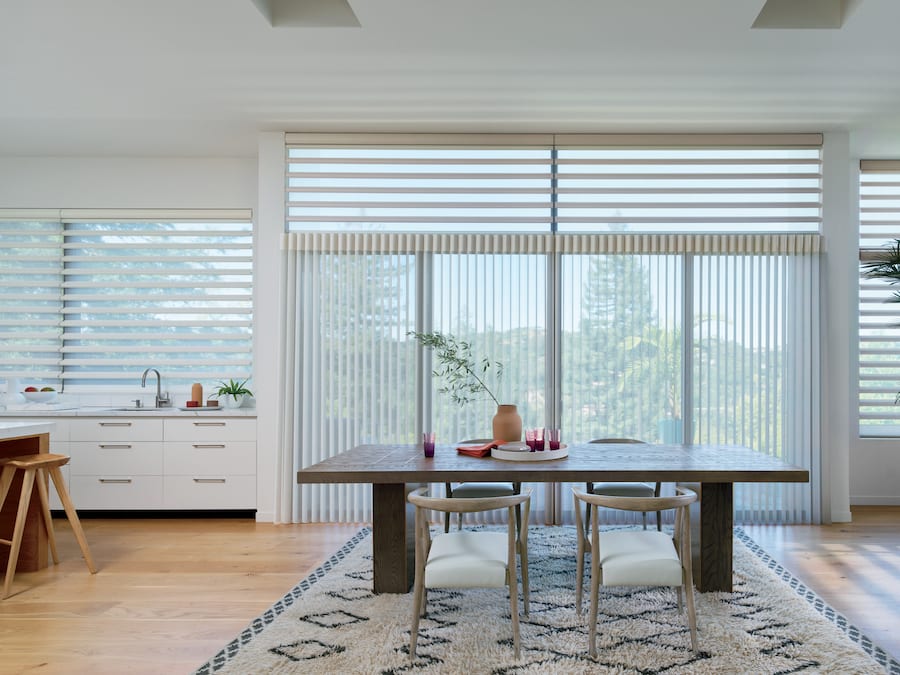 There's no right or wrong way to decorate your windows, but it's important to keep a consistent design. Our product collections flow, so you can choose different treatments while maintaining a cohesive look. Plus, you'll enjoy the added benefit of UV protection; your sheers will block 81% of the UV rays, while 99% will be blocked off when they're closed. You can relax knowing your furnishings are protected! 
Cover Large Windows in Style
Large windows add so much beauty to a space, but they certainly need solutions for sun control and privacy. The Pirouette is commonly chosen for floor to ceiling windows because they look gorgeous on large areas, and they're easy to function. If you want to let in natural light or adjust the level of privacy, all you have to do is adjust the vanes, not the entire shade.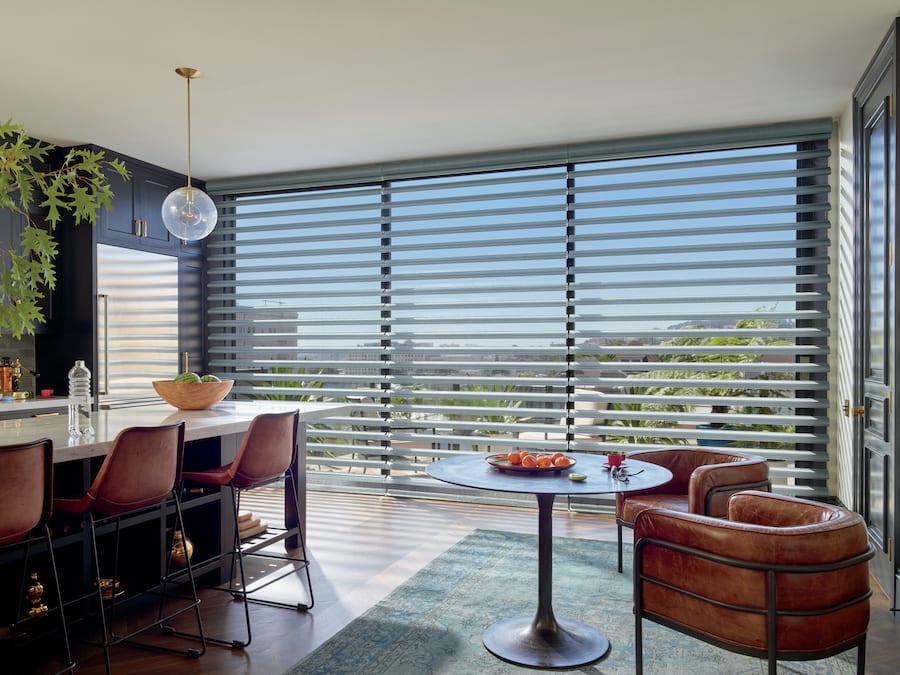 Multiple Pirouette window shades can cross a wall of windows seamlessly.The Pirouette shade can be made as big as 144 inches by 144 inches, which means you can easily cover floor to ceiling windows. For wider windows, you can use multiple Pirouettes. Take a look at this wall of windows. There are separate shades, but they cross seamlessly for a gorgeous, uniform design. 
Control with Ease
Out of all of our operating systems, our clients prefer automation. You can control the vanes of your Pirouettes, as well as the entire shade, with a simple tap on your smart device or remote. You can also choose the SoftTouch™system, which gives each individual window motorized control using a wand.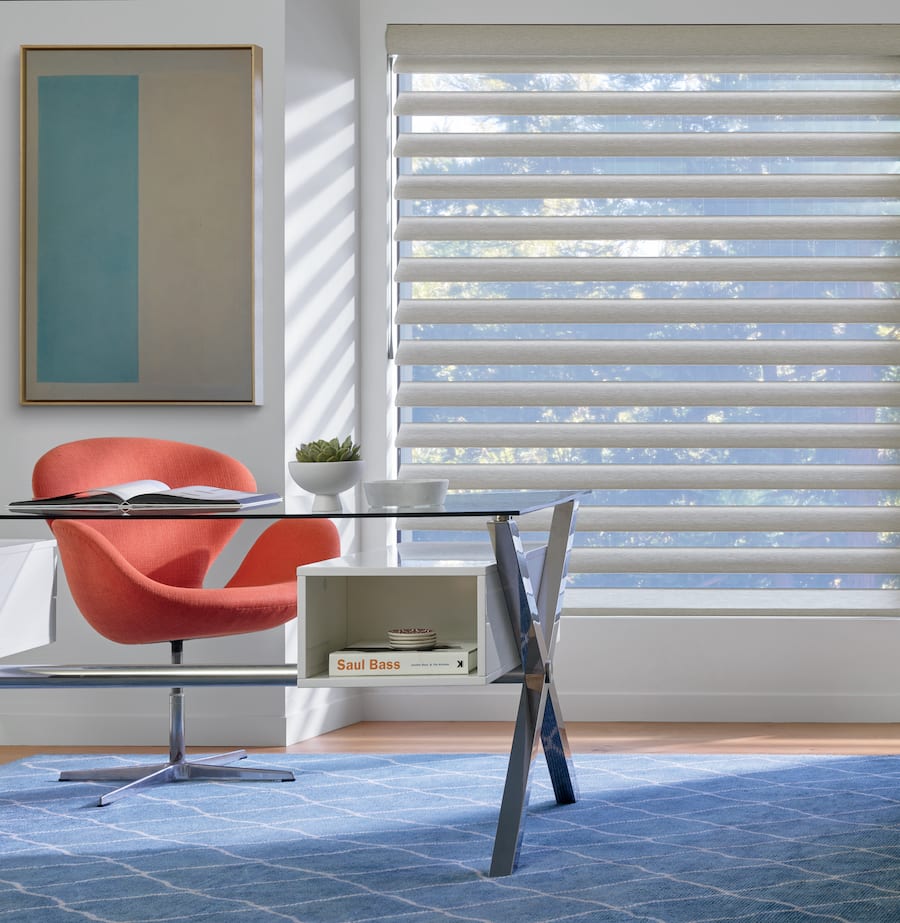 Not interested in motorization? No problem! You can stick with a cord system. We have two child safe options available for the Pirouette: Ultraglide and EasyRise. Ultraglide uses a short, retractable cord, while EasyRise is a continuous cord loop, placed and secured at the edge of the window frame. 
As you can see, the Pirouette shade offers a variety of solutions for your home. It's a favorite amongst our clients, and there's no wondering why. Are you interested in seeing these shades in your home? Contact our team at Creative Blinds today for your FREE design consultation.