Each room in your home serves a different purpose. Therefore, you may need privacy in one, but varying levels in others. We're breaking it down for you so you can choose the right window treatments for each room in your home. The priority? Comfort + Style to meet your needs.
Where Do You Need Privacy the Most?
This is probably a no-brainer. Bedrooms and bathrooms are high on the list. What might surprise you is how to get the right kind of privacy + control for those spaces.
Bathrooms
When it comes to the full bath space, the function requires privacy + a well-lit atmosphere for starting the day out right. Homeowners love the top down feature in these spaces. Powder rooms, on the other hand, could work well with an on/off lighting option. Draw the shades, or close the blinds quickly to get full privacy, and then adjust open when you want more lighting.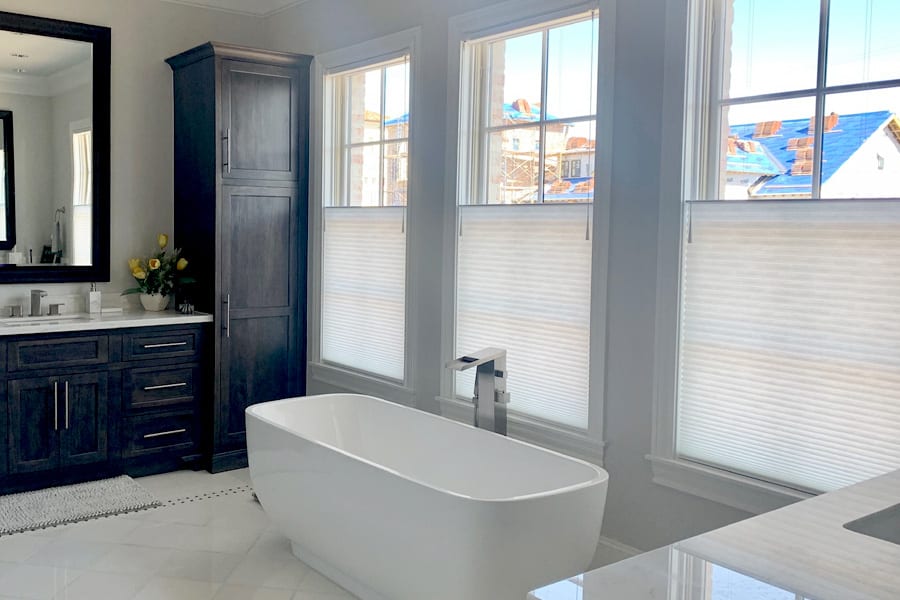 Bedrooms
In some cases, that on/off function works for bedrooms in your home. Adjust your room darkening blinds at night for a good night sleep and optimal privacy. During the daytime hours, the window coverings adjust open for natural light to enter.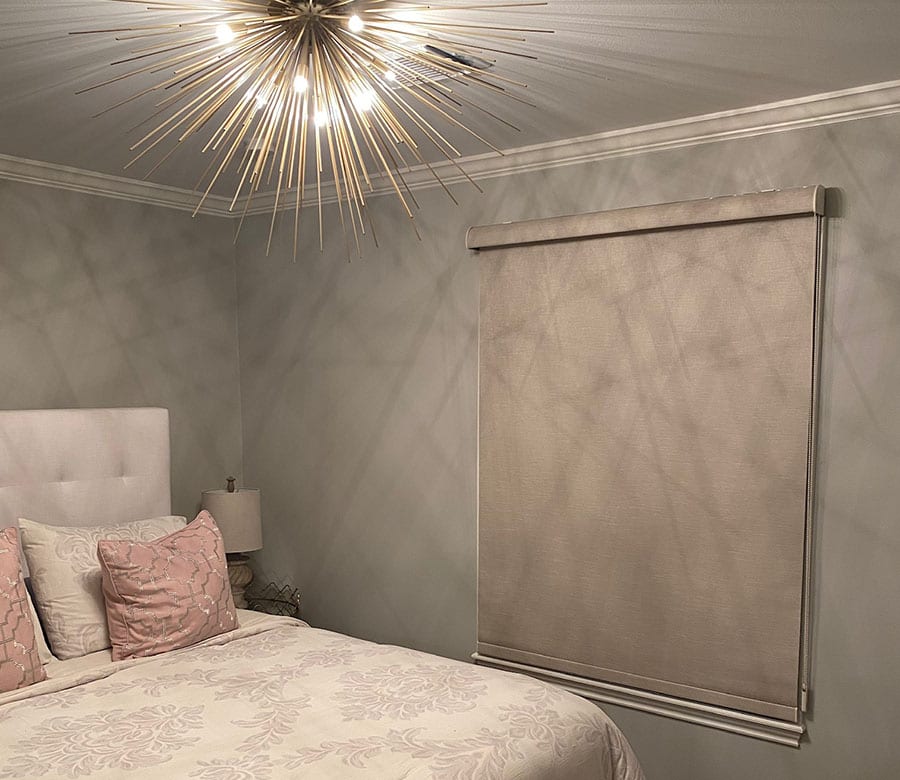 But, when you need privacy in a bedroom, but you also want a light filtering option for daytime, there are a couple favorites. Many clients love dual shades in the bedroom, so they can have as much coverage as possible with adjustable privacy and room darkening.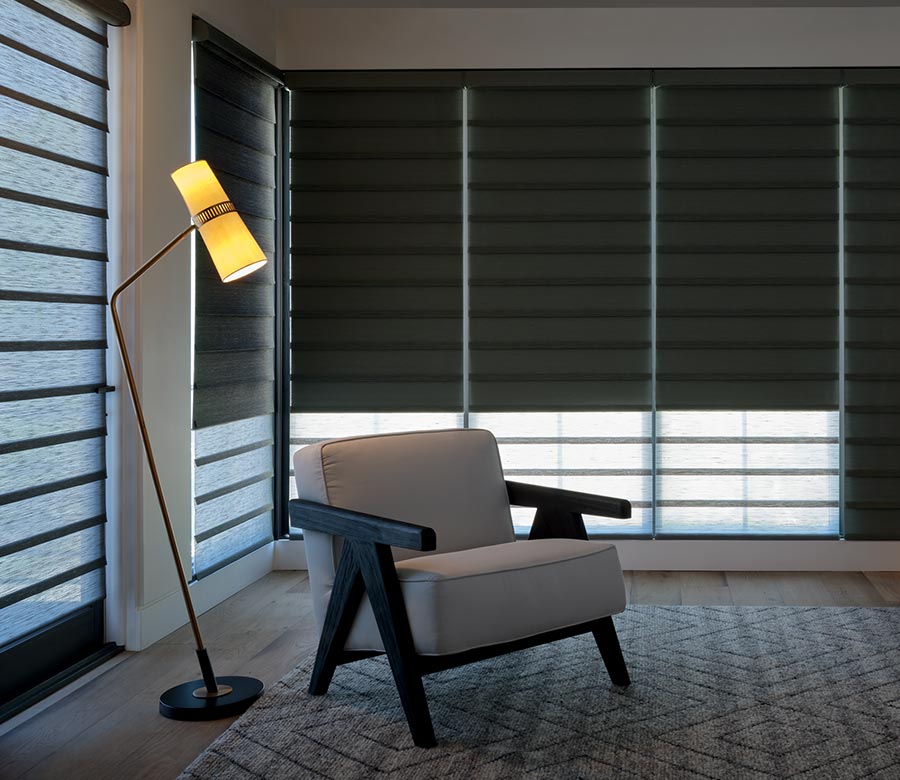 The Entryway
More and more, homeowners are finding a feeling of security with window coverings on the front of their homes. When it comes to the front door, or windows at street-level, you certainly don't want a wide open view to passersby. Semi-opaque or light filtering shades can work well in these spaces–adding just enough coverage to shield the view in, while still allowing light to enter.
Another option that's growing in popularity for today's homeowners is adding smart home features. Motorized blinds fall right in line! Your smart shades can adjust on a schedule, so even if you're not at home, your window shades will adjust automatically–keeping eyes out of your home when it's important.
Common Areas…After Dark
The areas of your home where your family spends the most time–living room, great room, family room…you might not think you need much privacy, especially if the windows in these spaces face the backyard. And while we agree–this is not usually a room of top priority for privacy, we have some ideas for you. It's the hours you spend together after the sun goes down that probably have you thinking.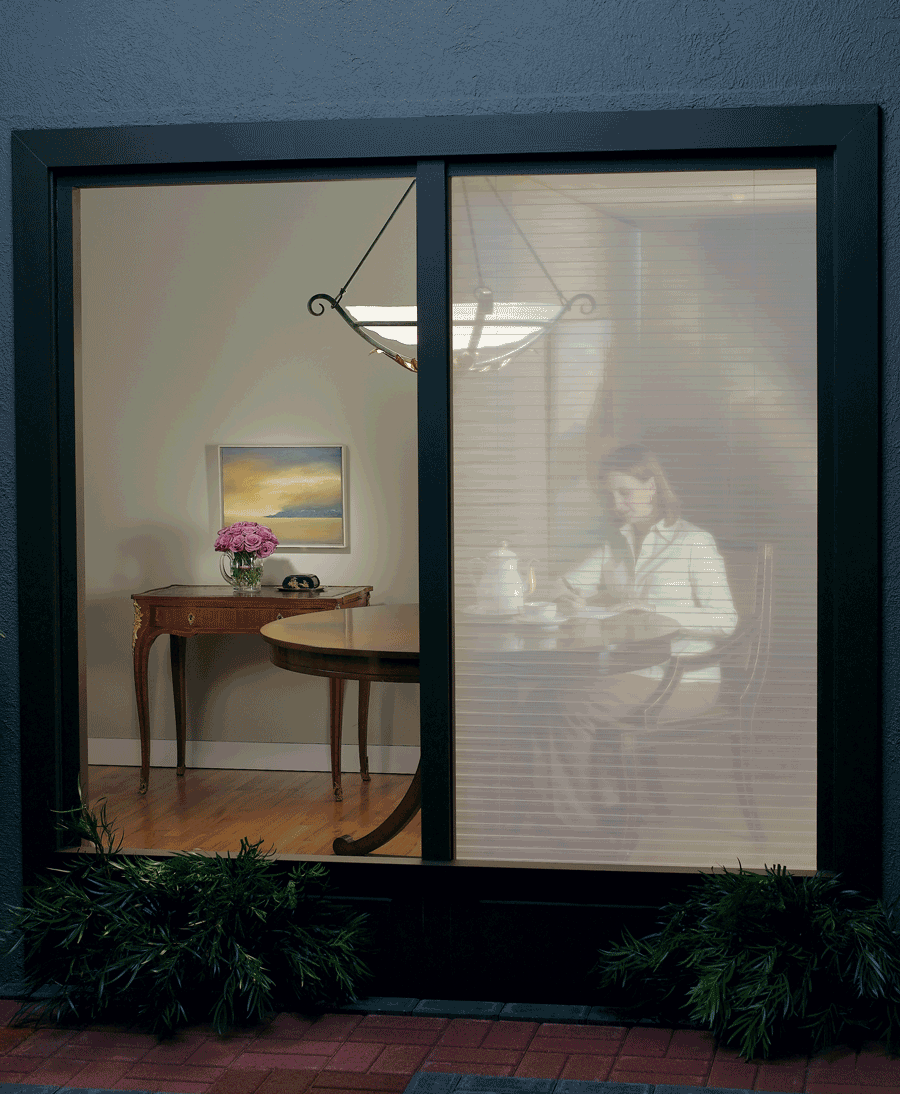 When it's dark outside, and the lights are on, there can be a direct view into your home. This is where the operation of your shades becomes important. Whether it's a light filtering shade with dual options for blocking the view, or plantation shutters that tilt closed after dark, you'll be a lot more comfortable knowing that you're blocking the neighboring eyes.
Let's Get Started!
So many factors to consider…don't do it alone! Our team at Creative Blinds is filled with experts in the field of window coverings. We can come to your home and listen to your thoughts about what your home needs and how you would like it to look. We'll put together a plan for you with this free consultation. Get in touch to get started today!