October is Child Safety Awareness month around the country! If you have small children, it's probably not a surprise to you. Everywhere, children are learning about fire safety and what to do if they're lost. But, what about dangers within the walls of their homes? The team at Creative Blinds wants to be sure you know the dangers of dangling cords, and just how they can be a threat to child safety. Let us show you your options for avoiding tangling injuries with cordless blinds and cord-safe window treatments.
Why Do You Need Cordless Blinds?
The strings and cords that hang from blinds and shades seem simple. And, they are. Innocent, even. But, in the eyes and hands of a child, they become dangerous. These blind cords become a necklace, a climbing rope, maybe a lasso when playing cowboy. Dangling cords risk the safety of your little ones…so cordless blinds are a smart decision to remove those dangers.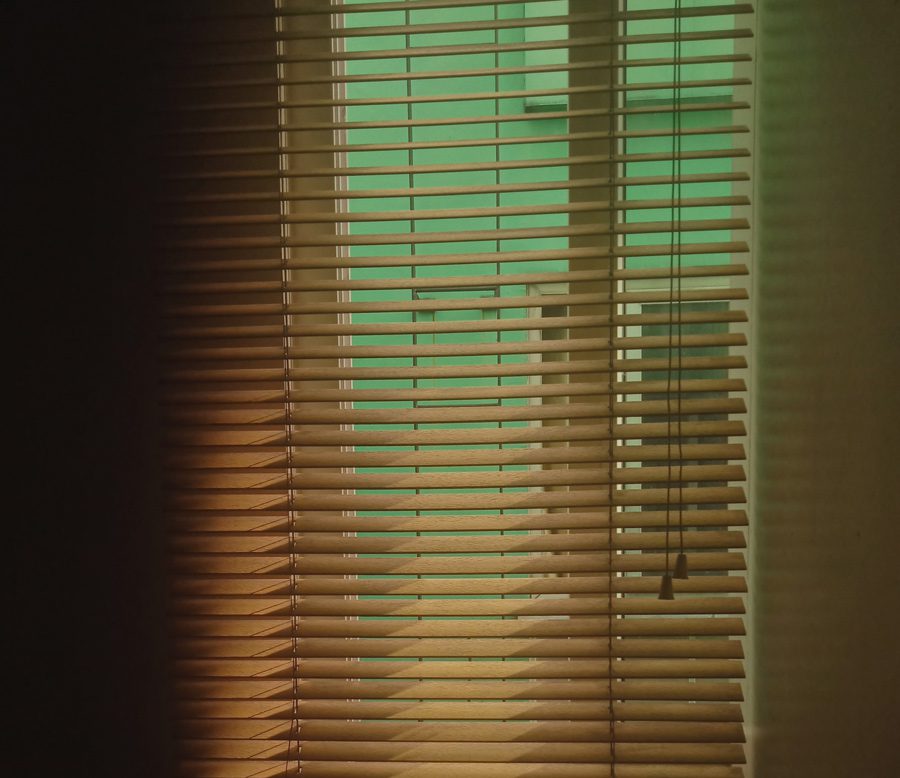 Has it been awhile since you've purchased window coverings? Old blinds with hanging cords, have been flagged as hazardous by the US Government Consumer Product Safety Commission as of December 2018.
What Are the Options?
Years ago, Hunter Douglas made child safe operating features a priority. The safest cords are no cords, and we've got our top three options for cordless window treatments…
Cordless Blinds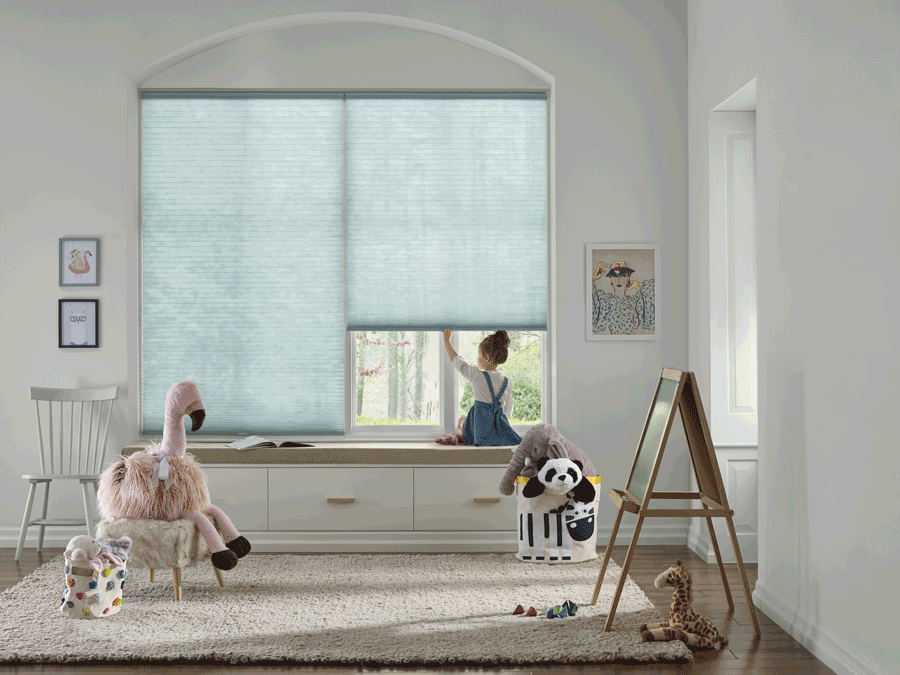 Literise is the name of the cordless system for operating your shades or blinds. With your hand on the bottom rail, a gentle push up or a pull down puts the cordless window coverings right where they need to be. So easy a child can do it–and, that's what's important.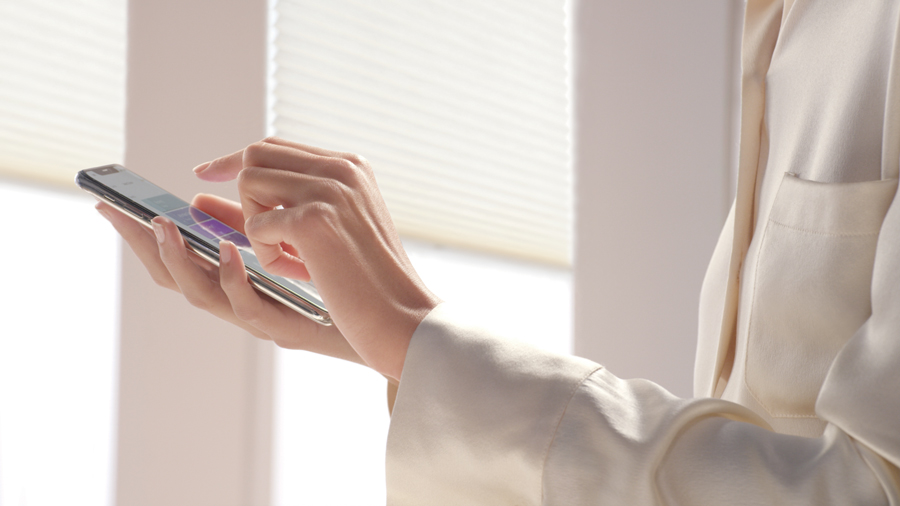 Our motorized blinds and shades are a popular choice for convenience and light control, but did you ever stop to think about the safety? No cords means no dangers.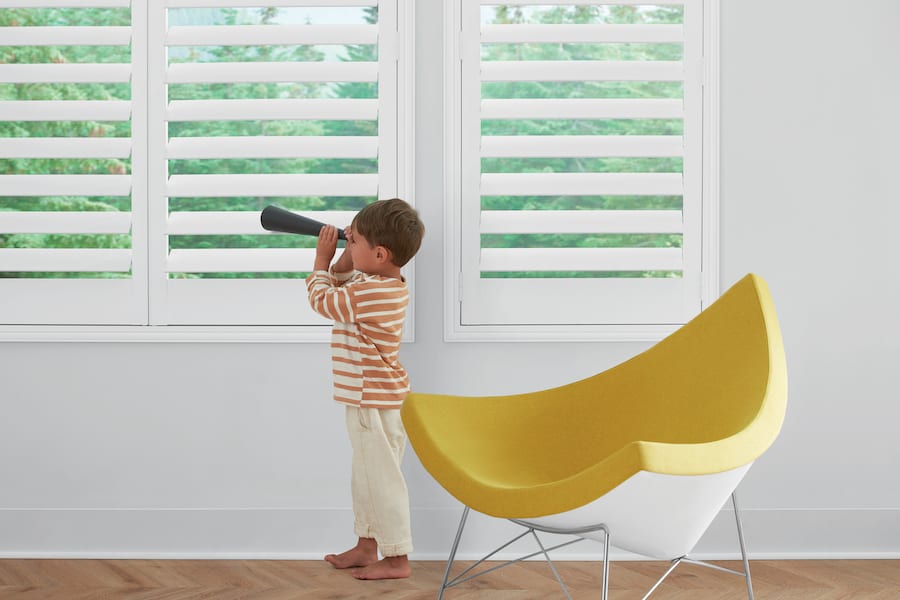 Plantation shutters top our list for cordless operation–of course, they're designed to be cordless. But, they take safety to the next level. Because of the durability and strength that Hunter Douglas shutters offer, you can trust that your child is safe playing near windows that have these shutters framed into the window. Even with an open window behind the interior shutters, your child won't fall through.
Are There "Cord Safe" Blinds?
If child safety is a top priority, but you still need a cord, we've got solutions for you! Sometimes, depending on the layout of your home, you may need a cord. Window coverings that are hard-to-reach, or sitting behind furniture require an operating feature that allows you to adjust them when necessary. Take a look, clock-wise, starting top left…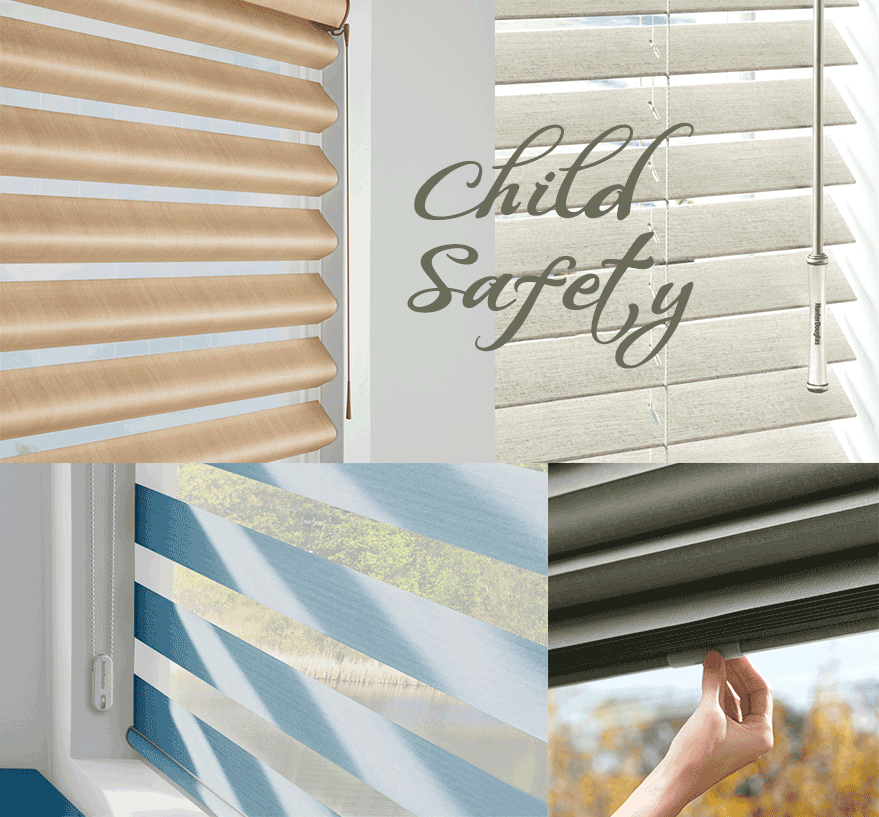 Soft Touch
This is relatively new to the window coverings world. It's a wand that allows you to operate your window coverings with motorization–for that one individual window. A gentle tug down, or a nudge up, and you'll make adjustments with ease. Don't worry about kids being rough. If they pull too hard, the magnets simply disengage.
UltraGlide
This operating system allows you to use a cord that stays out of harm's way! With each adjustment, the short cord retracts up toward the top, keeping the length very minimal and way out of the way.
Literise Cordless
This is the third option–and yes, it's cordLESS. But, we wanted to include a close-up of this option for your home, so you could compare your choices, deciding which is best for you!
Cord Tension
This is the best idea when you have window coverings with a continuous cord loop. The cord is tight up against the window frame, fastened in place. We'll do that for you if that's the system you choose, and operating your cord-safe shades is easy.
We'd Love to Help!
Are you feeling overwhelmed by the amount of choices? Don't be! Let us help you narrow it down based on how you would like to use your window coverings and which system fits your lifestyle. Just know, that if you need cordless blinds, child safe shades or any window treatments that make safety a priority in your home, you have many options! Our team–at Creative Blinds–would love to show you the systems we introduced above for child safety in your Houston area home. Visit one of our showrooms to experience the operating systems on life-like displays. And, we'll be happy to come right to you to figure out the best solutions for simple function in your own home. Get in touch with us for your FREE in-home appointment.